This is an archived article and the information in the article may be outdated. Please look at the time stamp on the story to see when it was last updated.
SAN DIEGO — Occasional showers and isolated thunderstorms are expected Monday  throughout San Diego County, along with gusty winds in mountain and desert areas, forecasters said.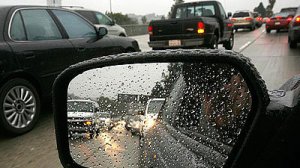 The rain was brought on by upper low pressure and is expected to stick around through Tuesday, according to the National Weather Service. The low pressure system also will generate gusty winds in the mountains and deserts through late Monday night, the weather service reported.
Gusts of 62 mph were recorded at Monument Peak near Mount Laguna about 1 a.m., the NWS reported.
A NWS wind advisory in effect in the mountains and deserts is scheduled to expire at 3 a.m. Tuesday.
During the advisory period, areas of west winds of up to 25 mph with gusts to 45 mph are expected. The winds should decrease some this morning but pick up again this afternoon and evening, then gradually decrease overnight.
Forecasters said blowing dust and sand could reduce visibility. The winds also may make driving difficult, especially for motorists with high profile vehicles, according to NWS forecaster.