This is an archived article and the information in the article may be outdated. Please look at the time stamp on the story to see when it was last updated.
NATIONAL CITY, Calif. — Authorities closed a block  of National City Boulevard Tuesday after a landmark theater sign was topple by high winds.
The historical tower on the Bay Theater came down overnight, destroying the awning over the old movie theater and crashing onto the sidewalk. No one was injured.
Bobby Barrera took a picture of the damaged building at 330 National City Boulevard showing the collapsed tower.  It also crushed the theater awning that hangs over the sidewalk.
The towering vertical sign had the word "Bay" in large yellow letters and had been in place since 1941 when the Bay Theatre opened. It has since become a church known as Ministerios Cristianos Lo Mejor Del Trigo of San Diego.
The minister of the church, who lives near the old theater, said high winds whipped through the area between 2 a.m. and 3 a.m. He said the winds blew the tower down.
The building's owner said the landmark tower was destroyed, but the building itself did not appear to suffer any structural damage. The owner had called a demolition crew to remove the wreckage. National City Boulevard will remain closed between 3rd and 4th streets until the cleanup has finished.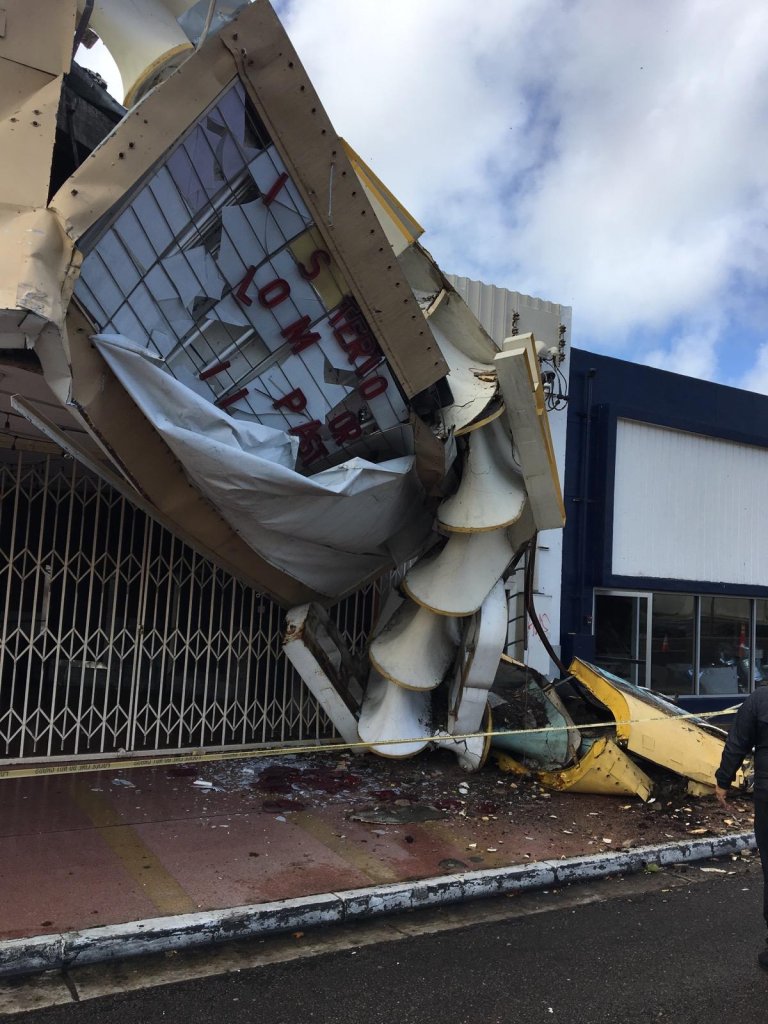 Steve Churchill showed up to the area after hearing of the damage.
"It's sad. It's part of the history culture here.  The first movie I ever saw was at the Bay Theatre," Churchill said.