This is an archived article and the information in the article may be outdated. Please look at the time stamp on the story to see when it was last updated.
POWAY, Calif. -- A violent chain-reaction collision involving a sedan and a pickup truck on a divided Poway roadway killed one person Monday afternoon.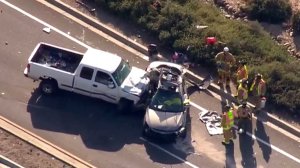 The crash happened about 4:30 p.m. on Community Road, just south of Poway Road, according to sheriff's officials. A grey Kia sedan collided with another car and went out of control, investigators said. The Kia jumped the center divider and crashed into an oncoming car. A white pickup then slammed into the Kia on the passenger side.
The driver of the Kia, whose identity was not immediately available, died at the scene of the wreck. The driver of the pickup and one other driver suffered injuries that were not life-threatening.
The accident forced a closure of the street between Metate Lane and Civic Center Drive, Lt. Damon Blankenbaker said.