This is an archived article and the information in the article may be outdated. Please look at the time stamp on the story to see when it was last updated.
CHULA VISTA, Calif. — The East Palomar Street Bridge in Chula Vista came down Sunday – 38 years after it was built.
The bridge will be replaced by a direct-access ramp — or "DAR" — that's part of a major construction project along Interstate 805 that will eventually provide new high-occupancy vehicle and express lanes for commuters in the South Bay.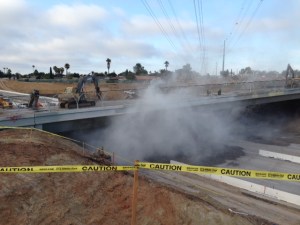 Sunday afternoon, the demolition forced a seven-mile closure of the 805 in both directions between State Routes 905 and 54.  The closure was dubbed "DARmageddon" and drivers were warned to avoid the area and take detours. Crews started tearing down the bridge around 3 p.m. Sunday.
"It was pretty bad and I thought I was going to be slick and go around it.  The detour I took was even worse," said Beto Vasquez, who got stuck in the traffic mess.
Some neighbors stood on rooftops to get a better look at the action.
"I was watching the little leaguers on television and then I said, 'oh, it's DARmageddon time, let's go – we gotta go see it,'" said Chula Vista resident Naomi Zamora.
According to Caltrans, it costs about $360,000 to tear the bridge down.  Crews used a 14-hour window to squeeze in a project that would typically take more than a week.
"We're actually very efficient with time.  We only have to set up once.  We do all the work — we clean up and open the freeway," said Cathryne Bruce-Johnson, a Caltrans spokeswoman.
The freeway reopened at 5 a.m. Monday.