This is an archived article and the information in the article may be outdated. Please look at the time stamp on the story to see when it was last updated.
SAN DIEGO – The Heisman Trophy voters have to turn in their ballots after the conference championship games this Saturday and when the finalist list comes out next Monday, I fear San Diego State Aztecs running back Rashaad Penny won't see his name on it.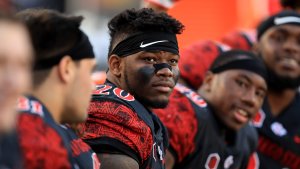 He just didn't do enough.
All he did was run for over 2,000 yards and lead the nation in rushing and all-purpose yards while leading his team to at least 10 wins for the third straight season.
What Penny didn't do? He did not make an obscene gesture on the field and get suspended like Oklahoma quarterback Baker Mayfield.
Penny also didn't miss any games due to injury like Stanford running back Bryce Love – whom the Aztecs beat by the way.
And Penny didn't get to run behind an experienced offensive line that returned all five starters, like Wisconsin running back Jonathan Taylor.
And most important, Penny didn't play on the east coast – where apparently they go to bed at 10 p.m. and don't have the internet.
Instead, Penny just showed amazing speed, strength, character, and humility while helping SDSU continue to build a program that became the first team in FBS history to have consecutive 2,000-yard rushing seasons by two different players.
Donnel Pumphrey led the country in rushing last year and got snubbed.
And Penny will probably get the Heisman snub from the voters this year, too.
Because he just didn't do enough.
— FOX 5 Sports Director Troy Hirsch