This is an archived article and the information in the article may be outdated. Please look at the time stamp on the story to see when it was last updated.
SAN DIEGO - Cloaked in a thin, regal-looking blanket that signifies him as the Triple Crown champion, Justify did some walking laps in trainer Bob Baffert's barn area at Del Mar early on Monday morning.
Led from his stall at 7:15 a.m., with a large gathering of San Diego media waiting for him, the spirited chestnut 3-year-old got a bath and afterward reared on his hind legs several times, looking not the least bit lame.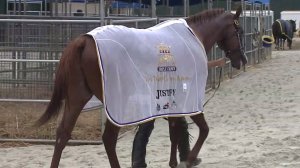 "I think people think he's in a cast or something," joked Baffert.
The ailment that has kept Justify on the sidelines since his victory in the Belmont Stakes on June 9 is far from evident. It has been described as a "filling" in his left front ankle. To the equine layman, it's inflammation that was discovered in a scan.
Baffert said the issue has resolved itself, but he doesn't know if it will come back, and it has put Justify's racing future in doubt.
Read more at San Diego Union-Tribune.