This is an archived article and the information in the article may be outdated. Please look at the time stamp on the story to see when it was last updated.
SAN DIEGO – The college quarterback who created a trick shot video that went viral on YouTube with over 7 million hits was seen in San Diego fine tuning his skills.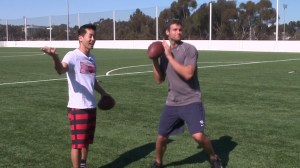 The former University of Connecticut quarterback Johnny McEntee is working on his game with coach George Whitfield in San Diego in hopes of making that next level.
Fox 5 Sports Ross Shimabuku met up with the 22-year-old and challenged him to a trick-shot competition.