This is an archived article and the information in the article may be outdated. Please look at the time stamp on the story to see when it was last updated.
SAN DIEGO — Defending champion Peter Sagen of Slovakia won the first leg of the 2016 Amgen Tour of California bicycle race in its San Diego debut Sunday afternoon.
The world's number one ranked rider beat out more than 140 racers in the challenging 106-mile first stage that began and ended at Mission Bay. It took about 4 hours, 30 minutes to finish the first leg. Wouter Wippert of the Netherlands was second. Michael Sheehan of the U.S. was third. They lost to the winner by less then a bike length.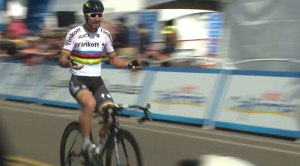 "Especially exciting this year is the road to the Olympics — and Rio gold — is actually happening right here in the Golden State," said Kristin Klein, the tour's president.
"Many in our field are hoping to qualify for their national teams, while others are here to size up the competition before the August games," Klein said. "At the same time, once again, the Amgen Tour of California will be the perfect launch pad as dozens of riders are making final preparations for the Tour de France, which is happening in less than two months."
The race was held in Escondido and Rancho Bernardo in 2009, and Escondido again three years ago, but this is the first time a stage has been set this far south in San Diego. Stage two will be held Monday, beginning in South Pasadena and ending in Santa Clarita.
Sunday's first stage had riders racing through Balboa Park to Imperial Beach, then east through Chula Vista to hilly and winding Jamul, then heading back through El Cajon, San Carlos, Allied Gardens, down Mission Gorge Road into Mission Valley via Friars Road, then the sprint to the finish line at Mission Bay via Ingraham Street, not far from the start.
Spectators lined the route, taking pictures and cheering on racers.
San Diego organizers have "done an incredible job of getting their hometown behind the race," Klein said.
Over the next week, the race's eight stages will take riders from South Pasadena to the Angeles National Forest, along the coast in Ventura and Santa Barbara counties, Morro Bay and Big Sur, a 130-mile climb to South Lake Tahoe, a time trial in Folsom, the Sonoma County wine country, and the finish next Sunday in Sacramento.
The courses total 782 miles, according to the organizers.