This is an archived article and the information in the article may be outdated. Please look at the time stamp on the story to see when it was last updated.
SAN DIEGO – FOX 5's Heather Lake is on the road to Houston to see the New England Patriots take on the Atlanta Falcons in Super Bowl 51.
Along the way, she will venture off the beaten path to check out some of the coolest landmarks, quirky diners and bars, and must-see sites in the southwest.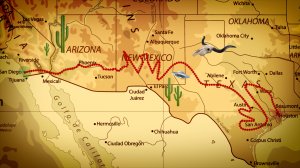 As we #CountDownToTheBigGame we will continue to post updates here on Heather's road trip. You can also follow @HeatherLakeTV on the #RoadToHouston on Twitter, Facebook and Instagram.
Live coverage of the Super Bowl will begin at 6 a.m. Sunday, February 5 with the FOX 5 Morning News.
Day 1: On the #RoadtoHouston with Heather Lake
Day 2: On the #RoadtoHouston with Heather Lake
Day 3: On the #RoadtoHouston with Heather Lake
Day 4: On the #RoadtoHouston with Heather Lake
Day 5: On the #RoadtoHouston with Heather Lake
Heather Lake gets slimed while finding out what kids do at Super Bowl