This is an archived article and the information in the article may be outdated. Please look at the time stamp on the story to see when it was last updated.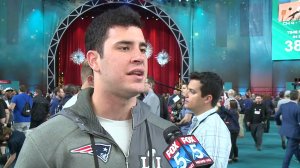 HOUSTON – Granite Hills High School graduate Joe Cardona views the football field a little differently – upside down, actually – as the long snapper for the New England Patriots, a position not many people pay attention to.
But the last time the Patriots played a Super Bowl in Houston, they needed the long snapper to win the game. They kicked a last-second field goal to beat the Carolina Panthers.
And Cardona says he would love to have that opportunity this Sunday.
"You hope that your number's called," Cardona told FOX 5's Troy Hirsch. "I think every competitor hopes that their number's called when the game's on the line."
The 24-year-old says he started long snapping as a youngster, inspired by the 17-year-career of former Chargers long snapper David Binn. Cardona then went to the United States Naval Academy and from there went to play for the Patriots, whose coach Bill Belichick had a father who coached at Navy for more than 30 years.
And Cardona has a special place in Belichick's heart.
"Joe represents everything that we want to stand for and he's a great person and of course his real job, defending our freedom, is at the very top of the list," Belichick said at a news conference. "We all have great respect for the training and the work that he has done to do that. Last year was an even more challenging year for Joe because he was on active duty in Newport and so his day job was the Navy and his second job was pro football and obviously that's a lot different from every other player in the room. Once everybody fully understood that, you just gain even more respect for Joe."
Cardona says he plans to fulfill his eight-year commitment to the Navy and will do so in the reserves. He feels very fortunate to fulfill both of his passions.
"It's something I take pride in, being able to serve this country and also being able to play football," Cardona told Hirsch. "It's an incredible opportunity. It's every little kid's dream growing up to play in the Super Bowl and it definitely was my dream growing up in El Cajon to one day play in the Super Bowl and here I am in Houston."
And maybe secretly, Cardona's hoping for another last-second field goal to give the Patriots their fifth Super Bowl title.