This is an archived article and the information in the article may be outdated. Please look at the time stamp on the story to see when it was last updated.
CARLSBAD, Calif. - What started out as a cheering competition between some North County high school students this weekend turned into controversy after a few teens held up signs appearing to show the letters KKK.
The picture of the three students holding up the signs during a rivalry basketball game between Carlsbad High School and Sage Creek High School caused an uproar with Carlsbad parents.
The cross-town rivalry ignited a cheering competition between the student sections, but administration had to step in when the signs were displayed right next to each other during the third quarter.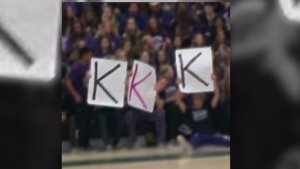 Parents and teens have been fired up since the Friday night game, forcing the school to respond that this was just a misunderstanding of the younger generation.
"If the kids don't exactly know what it means then they should be staying in class maybe a little more learning what it means," said Teri Cagle, whose granddaughter was at the game. "She was pretty shocked. She knew what it meant."
School officials say the signs were immediately removed from the arena as the Carlsbad High principal issued an email to parents Saturday reading in part:
"…during the game a few students held up handmade signs symbolizing a "K". The K was short for "OK," and is generally used by students in text messages. The signs were created by students as a response to the opposing team's chants, and were not intended to be held up next to each other, or to represent a message other than "OK."
The school claims they will continue to investigate the situation, although no word has been given on whether the students will face any disciplinary actions.