First-ever 25–25 debut season.

Added speed to play center field.

Cold-turkey quit video games.

Emphasizes feel over data to hit.

Olympic bronze medalist.

Fastest sprint speed among center fielders.

Taught himself English as a boy.

Hit sign, won beer.

Eighty-one bombs in Home Run Derby.

Gave up favorite fast food.

At 21, youngest first-year AL All-Star outfielder since Joe DiMaggio.

Makes book recommendations.

Everyone knows him as the J-Rod Show.
That's the fast version of the Julio Rodríguez story. It is apropos to the Mariners' center fielder and the way baseball will be played this year. Julio is fast. Fast runner. Fast talker. Fast learner. Fast tracked.
Fast like baseball in 2023. In the time it took you to read the fast version of Rodríguez's story, two pitches could be thrown in a major league game—not one, the way it was for years.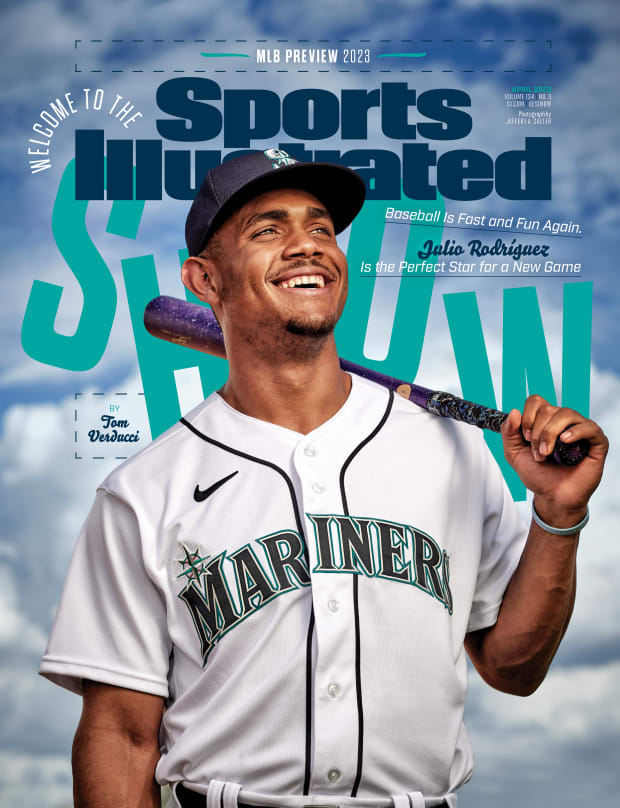 Sacrilege became necessity. Major league baseball for the first time will be played with a clock: 15 seconds to deliver a pitch with the bases empty and 20 seconds with runners on. Other new rules include a ban on defensive shifts, a ban on positioning infielders on the outfield grass, bigger bases and a limit of two unsuccessful pickoff throws during a plate appearance (page 42). It is the most seismic one-year suite of changes ever made to how baseball is played.
The goal of the rule changes is not just to increase the pace of action, but also to return the game to the players after years in which playing style was dictated by front offices following analytics as their North Star. The result of data-driven baseball was an aesthetic disaster and a commercial flop.
Nobody better represents the ideal version of this new era of baseball than the J-Rod Show. Faster. More athletic. More daring. More unencumbered. More fun.
His perpetual smile is a happy contagion. His joy is a burst of neon light. More than sprint speed or exit velocity, the gift of this 22-year-old is a je ne sais quoi that makes him simultaneously swaggy and endearing.
"If you don't know the kid and you see the necklace, the J-Rod Show and the YouTubes, it wouldn't be convincing how genuine he is," says Mariners assistant general manager Andy McKay, who has known Rodríguez since he signed at 16. "If you are around J-Rod you see it and you believe it."
"I'm just a guy who came from Loma de Cabrera, a town in the Dominican Republic with 20,000 people, and one day I can be hitting in front of 50,000 people in Dodger Stadium with the whole United States watching it," Rodríguez says. "I want to inspire those after me. You can get there if you work hard. If you dedicate yourself, you are able to live out your dreams.
"This is a beautiful game when you play it the right way. I feel like there are a lot of people that, um, how do you say it? They take the game too serious. And I feel like they forget about the joy of this."
In March 2020, Rodríguez, then 19 and a nonroster invitee, walked past the spring training office of Mariners manager Scott Servais. "Hey, Julio. Come on in here," Servais called out. It was their first meeting. "I was blown away," says the manager.
How so?
"His grasp of the English language. His confidence. His personality. How sharp he was. Right away I go, This dude is different."
By midway through last season, just a rookie, Rodríguez had become the Mariners' best player and one of their leaders. "His personality is like a magnet," Servais says. "Listen, you can't bulls--- players. When you're around somebody who acts one way and then when the camera is off acts another, that wears off fast. But this is just how he is. He truly loves baseball."
He is the right player at the right time.
Since 2007, the game's attendance apex, to last season, baseball has lost 14.9 million ticket buyers in the regular season and 5.3 million World Series viewers. A changing broadcast and entertainment marketplace contributed to the erosion. But so did a brutally efficient but dreadfully slow, risk-averse style of percentage-driven baseball.
From 2007 to '22, the average game grew 12 minutes longer with 5.5 fewer balls put into play. As technology gave people more options at their fingertips, baseball operated under a backward business strategy: It kept giving people less action over more time.
Nobody set out to produce a duller game. It was the byproduct of front offices swelling with whip-smart analysts who dived deeper into the game's rich statistical lithosphere and emerging informational technologies to hack the probabilities. The byproduct of their work almost always squelched action.
Pitching staffs spun the ball more because average spin is harder to hit than extreme velocity. Hitters took full-tilt swings because the occasional home run, even at the cost of more strikeouts, carried a better risk-reward ratio than playing for a rally. Highly advanced defensive positioning encouraged this boom-or-bust hitting approach. Shifts worked so well at sucking hits out of the game that their use nearly tripled in just three years, from 12% in 2017 to 35% in '20, including more than half the time against a left-handed batter. Runners were discouraged from attempting to steal bases because the risk wasn't worth it when you are waiting for home runs.
Action and fan interest eroded in lockstep. From 2007 to last season, the information-based style removed 5,302 hits, 623 stolen base attempts and 25 batting average points from the game. Strikeouts went up by 8,623. The '18 season marked the first time in baseball history strikeouts outnumbered hits. It has remained that way ever since.
As a speedy right-handed hitter, Rodríguez did not suffer greatly from shifts. (He saw them 8% of the time.) But with pitchers now required to work faster (less recovery time between intense effort), more balls expected in play and an expected higher success rate of stealing bases, his hitting and running skills are exactly what baseball wants to highlight to pull the game out of this 15-year aesthetic decline.
Says Rodríguez, "I like it because I feel it is just being able to put on display everything you can do to help a team win. I feel like you push people even more to be complete players.
"I know a lot of people said, 'Oh, don't steal bases because it doesn't really impact the game. It's not good.' But 90 feet will always impact the game in a better way. Ninety feet can be the difference between a guy hitting with no outs and a man on first with a chance to hit into a double play and hitting with a guy in scoring position. That can be the deciding run in a game."
Rodríguez stole 25 bases last season. After a slow start, he also hit 27 homers in his final 99 games, a pace that puts 40 homers within his reach. Only four players have achieved a 40–40 season—none of them everyday center fielders—and all of them did so between 1988 and 2006: Jose Canseco (1988), Barry Bonds ('96), Alex Rodriguez ('98) and Alfonso Soriano (2006).
That Julio Rodríguez deserves mention in such company is another fast story. Not even the Mariners expected him to be this kind of player.
The date was March 13, 2022. After a three-month lockout in which clubs had no contact with their players, the Mariners were back on the field for a workout in Peoria, Ariz. They were running the bases during a routine drill when Servais turned to one of his coaches, Manny Acta, and said, "Omigosh! Manny, did you see that?"
"Hell yeah, dude," Acta said.
Watching Rodríguez run left them slack-jawed. Until then, the Mariners thought of Rodríguez only as a corner outfielder because of his thick body. He is 6' 3" and 228 pounds. It was one reason why Rodríguez signed in 2017 for a $1.75 million bonus, a nice sum but less than eight other international free agents. Corner players are valued less than those who play in the middle of the field. It also partly explains why, as recently as '20, Rodríguez was ranked below Cristian Pache, Joey Bart and Dylan Carlson on prospect lists.
What the Mariners couldn't know during the lockout was that Rodríguez had been working in Tampa with a speed coach, Yo Murphy, a former NFL wide receiver. They worked on more efficient form, including a longer stride. When the lockout ended, Rodríguez told team officials he planned to earn the center field job.
"Whenever I would bring it up to them they would go, 'Ah, nah. We're going to try to save your bat and put you in the corner,' " Rodríguez says. "I felt ... not mad, but I was like, 'Man, you're not seeing the whole picture.' Because I feel like I'm restricting myself into the corner when I can play in the middle. Now people are realizing, We were actually wrong about this guy."
Rodríguez had an average sprint speed of 29.8 feet per second last season, best among all center fielders with at least 100 timed runs. He became the first player in his debut season to hit 25 homers and steal 25 bases. He and Mike Trout (2016) are the only center fielders ever to steal 25 bases while weighing at least 228 pounds. "I've done this my entire adult life, and gaining speed is not normal," McKay says. "The buzz that spring was amazing. I've never seen a speed gain like that and probably never will again."
Such stories of desire and rapid growth abound with Rodríguez. Around age 7, on his own, he began listening to English learning tapes his mother, a dentist, had around the house. The first time McKay, then director of player development, met Rodríguez was during the Dominican Summer League in 2018. Rodríguez introduced himself by sticking out his hand and asking, "Can I play in the Arizona Fall League this year?" The AFL is designed for advanced prospects knocking on the door of the big leagues. Rodríguez was 17 and playing his first year of pro ball.
"Sorry. You're not likely to play there this fall or even next fall," McKay told him.
"Well, let's talk about it," Rodríguez said.
Says McKay, "He wouldn't let it go. He was very firm in what he wanted. " Rodríguez did play in the AFL the next year.
His bat was special from the beginning. In 2018 the Mariners began introducing more technology to measure hitting performances. Jarret DeHart, then working as a hitting strategist for the team and now its hitting coach, applied a sensor to Rodríguez's bat. The average major league bat speed is between 70 and 72 mph. The first time DeHart measured Rodríguez he thought the device was broken.
So he measured Rodríguez's bat speed again. And again. And again. It kept coming back absurdly high: 80 mph. There was nothing wrong with the sensor. "As a 17-year-old he was posting bat speeds that were well above major league average," DeHart says. "We realized we were dealing with someone very special."
Bat speed alone did not satisfy Rodríguez. In 2020 he began talking to his personal hitting coach, Osvaldo Diaz, about a major swing change. Diaz, 40, a former minor leaguer from Cuba who has tutored three of the past four AL Rookies of the Year (Rodríguez, Randy Arozarena and Yordan Alvarez), did not want to incorporate the changes during a season in which Rodríguez starred for the Dominican Olympic team. They dived into the changes that offseason.
In days gone by, hitters such as Ted Williams talked about pulling the bottom hand through a pitch to generate power. "Because there was a lot of whip action to the bat," Diaz says, "but people also rolled over a lot. And guys didn't throw 102 with sinking action then. So today we have to adjust."
Diaz emphasizes the top hand to control the barrel. He doesn't believe in getting the barrel on the plane of the pitch early. Instead, he prefers a short, quick downward path driven by the top hand. From the point of contact, the top hand extends toward the center field wall and then upward with the palm remaining up. The top wrist never rolls over the way it did in the classic Williams swing. "That's where you get the backspin and carry," Diaz says.
Rodríguez hits with Diaz in the offseason twice a day, five or six times per week after his morning training sessions in the gym. (He employs a strength trainer, speed trainer, hitting coach and chef.) Every session begins with a top-hand drill. Rodríguez holds his bat close to his right chest with his right hand about 15 inches from the knob. Before the changes Rodríguez hit with his hands high over his right shoulder. Diaz places a ball on a tee close to Rodríguez's body. It looks like someone about to hit inside a phone booth. Diaz prefers another analogy.
"The first move is like hitting with a straitjacket," he says. "Your hands are close to your body. You're really connected. The first thing is to feel tight. Then we turn. Top hand down. And after we feel connection we lift it with the head of the bat.
"You have to be tight to be loose. Easy to remember. Not easy to do."
Watching Rodríguez take batting practice at Tampa Catholic High School in February was stunning. Almost without exception, the balls he hit traced a beautiful parabola across the blue sky, never too high and never, ever on the ground. Rodríguez finished each swing with the barrel of the bat extended over his head and his palm up. It was the same swing he used to loft 81 home runs in last summer's All-Star Home Run Derby. Only Vladimir Guerrero Jr., in 2019, has ever hit more.
A month after the Derby, Seattle signed Rodríguez to a contract that guarantees him $209.3 million over 12 years and, including options and incentives, could be worth $469.3 million over 17 years.
"We haven't seen nothin' yet," Diaz says. "I see MVP. I see him winning a World Series and I see him being a player for at least seven to 10 years at the highest level because of his work ethic. Even with the contract and all the attention that he gets, this kid's not going to change."
In spring training last March, Servais noticed that Rodríguez's enthusiasm was working against him. He was pulling off the ball in his zest to make the team, leaving him vulnerable to off-speed pitches.
"Julio, come here," Servais said in the dugout at Peoria Sports Complex. He pointed to a sign on the wall in right center field. It was an ad for Leinenkugel's that read swing for a summer shandy.
"Do you know what that is?" Servais asked.
"No, what is it?" asked Rodríguez, who had turned the legal drinking age in the U.S. three months earlier.
"It's a beer. From Wisconsin. Like me. You're old enough now. Why don't you see if you can hit that sign?"
The next time the Mariners played there, Cleveland closer Emmanuel Clase threw Rodríguez a 2-and-2 curveball. Rodríguez waited and smashed it on a line toward right center. The ball bounced off an ad for the city of Peoria, missing the adjacent Leinenkugel's target by about 10 feet. Rodríguez slid helmet-less and headfirst over the plate for an inside-the-park home run, punctuating his spring training romp with shouts, fist pumps and smiles as if it were October.
Later in the inning he sat next to Servais by the dugout rail and asked, "Did I do O.K.?"
Says Servais, "During the season, whenever it looked like he was in one of those funks, I'd just say to him, 'Leinenkugel's, Julio.' And he'd just nod and go, 'I got it.'
"He's so smart. You tell him something once, and he remembers it."
Ulises Cabrera has known Rodríguez since Rodríguez turned up at a Dominican Prospects League tryout at 13 and "was easily the best player" among the 200 or so kids there. Cabrera approached his father, Julio Rodríguez Sr., who works for Save the Children, and said, "Your son is special. Just know your life and his life are about to change over these next few years." The Rodríguez family chose Cabrera as Julio's agent.
"The most amazing quality he has is his ability to process data," Cabrera says. "I'm not talking about numbers or analytics. I'm talking about all the information and influences around him and figuring out how to use them to make adjustments and get better.
"Here's one story. Have you heard of the book Atomic Habits? Julio not only read the book, but he also gave me a copy and said, 'Here. Read this.' I went to Vanderbilt. I have a master's in finance. And here's this teenage kid giving me a book to read. It was so good I bought 12 more to give to clients."
Here's another story. Three years ago, when he was 19, Rodríguez decided to quit his PlayStation habit.
"When I went to spring training, I left it behind," he says. "I was like, Nah, I can't have this. I didn't want to be sitting around for two hours, maybe losing some sleep. It was just a lot of negative. It was a lot of fun playing with my friends, but I was like, What are
you really trying to do? Are you trying to be a professional gamer or a major leaguer?"
Rodríguez's recent epiphany was to eliminate—O.K., reduce—his trips to Chick-fil-A. He left for spring training riding a two-month abstinence. ("I still like it; don't get me wrong," he says.) Another story, from Sept. 11 last year, as the Mariners fought to get into the playoffs for the first time in 21 years. Seattle trailed Atlanta, 7–6, in the bottom of the ninth. Rodríguez was the second batter due to hit against closer Kenley Jansen.
"I was in the on-deck circle trying to find a feel with my hands," Rodríguez says. "Because I don't really like thinking at the plate. But there's a certain feel before I hit. I know things are going to pan out in a good way when I feel it.
"I had been rushing that night. And I got in the on-deck circle, and I was like, O.K., now I feel it."
The Mariners recently put their players through a bat-fitting process, similar to getting fitted for golf clubs. Players' swings are analyzed through motion-capture cameras to assess which size and shape bat might best work for them. Rodríguez had no use for the results. He will study game tape of pitchers but has little need for modern analytics.
"I play the game more by feel," he says. "I like to analyze what I see. I feel like how I play comes from my eyes. I'm never afraid to think outside the box a little bit and try to figure something out."
Rodríguez looked at two pitches from Jansen, a strike and a ball. The next pitch was a slider. Rodríguez pulverized it for a line-drive home run to left field. At 117.2 mph, it was his hardest-hit ball all year. The game was tied. The Mariners won two batters later on a home run by Eugenio Suárez.
"Hitting a ball like that," Rodríguez says, "it feels pretty good. I mean, I didn't feel it very much on my hands. It's the best feeling. Pure contact."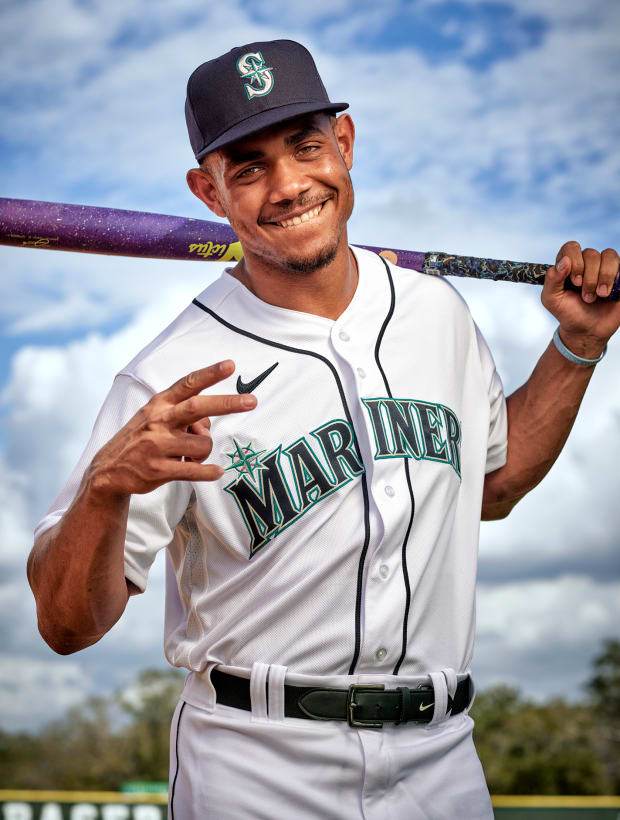 Now what?"
Carlos Santana is talking to Rodríguez behind the batting cage at Tampa Catholic. Santana, 36, a 13-year veteran now with Pittsburgh, played with Rodríguez last year in Seattle and is one of his closest friends.
"This year is going to be different for you," Santana tells him. "Everybody knows you now. The contract, the expectations ... it will be different. You have to understand it is you who must be the same. You have to work just as hard. To be successful in this game is to be consistent."
DeHart, the Mariners' hitting coach, says Rodríguez turned a corner in the second half last season, when his slugging percentage increased from .477 to .576. "He learned some things about his swing path, which allowed him to be in the air more consistently," says DeHart. "The more he consistently flushes balls in the air the better he will be."
Fast. It is happening so fast. Rodríguez played only 217 minor league games, just 46 of them higher than Class A, before posting the highest wins above replacement by any center fielder in his major league debut season (6.2). After only 108 big league games, he signed what would be the richest contract in baseball history at its full value. The Mariners are counting on him to lead them to the franchise's first World Series. Baseball is counting on him to help revive the game as faster, more free-flowing and athletic.
Is it happening too fast? Not even the Mariners knew what they had in Rodríguez at this time a year ago. Now he is at the forefront of a new era in baseball. The answer to what's next lies within, not all that swirls without.
It had been a long day, beginning with an 8:30 a.m. training session in the gym, followed by a two-hour workout on the field at Tampa Catholic, followed by lunch, followed by a 15-minute interview, followed by a 40-minute photo shoot. He still had another interview and a second hitting session in front of him when the photo shoot finally wrapped.
Freed from the task of smiling and posing in uniform under the afternoon sun on an empty field, Rodríguez did not immediately bolt from the scene or huddle with his two reps who stood nearby. Instead, he went up to each of the six people working on the shoot, shook each one's hands and thanked each of them. It was a simple gesture. But it stood as powerful evidence that if this is the face of a new era of baseball, the joy is back.