Good morning, I'm Dan Gartland. I really hope the Giants are able to hang on to Mike Kafka.
In today's SI:AM:
⚖️ Colin Kaepernick's latest social justice initiative
🏈 Warren Moon on Mahomes vs. Hurts
🏀 What the Lakers should do without Kyrie
If you're reading this on SI.com, you can sign up to get this free newsletter in your inbox each weekday at SI.com/newsletters.
Two jobs left open
With the NFL offseason set to begin officially in less than a week, there are still two teams that have yet to find a head coach for 2023. Five teams fired their coaches after this season, but only three have found replacements. Here's a look at where things stand right now.
Cardinals
Albert Breer reported yesterday that the Cards had narrowed their list down to three candidates: Giants offensive coordinator Mike Kafka, Bengals defensive coordinator Lou Anarumo and Steelers defensive assistant Brian Flores. But it looks like Flores is now headed elsewhere after reportedly accepting the Vikings' defensive coordinator job. Two other candidates—Arizona defensive coordinator Vance Joseph and Cincinnati offensive coordinator Brian Callahan—are out of the running.
That leaves Kafka and Anarumo, two of the most highly regarded coordinators in football who have taken wildly different career paths. Kafka, 35, spent five years in the NFL as a backup quarterback before being hired as a graduate assistant at his alma mater, Northwestern, in 2016. After one year there, he was hired as an offensive quality control coach by the Chiefs and was promoted to quarterbacks coach after one season. This was his first season as the Giants' offensive coordinator.
Anarumo, meanwhile, is 56. He spent more than two decades coaching in college before getting his first NFL job with the Dolphins in 2012 as defensive backs coach. He was never a full-time coordinator until the Bengals hired him in '19.
Kafka's role in Daniel Jones's improvement this season made him a hot head-coaching candidate during this hiring cycle. He also interviewed with the Colts, Panthers and Texans. Anarumo has garnered praise for his defensive play-calling and coached a defense this season that, despite having just one Pro Bowl selection, allowed the sixth-fewest points per game.
According to Breer, though, the Cardinals might still want to talk to the Eagles' coordinators after the Super Bowl, so Kafka and Anarumo could have competition.
Colts
The Colts are also taking their sweet time picking a new coach. They've interviewed 14 people for the job, according to NFL.com, seven of which were brought back for a second interview. Breer explained that the first-round interviews were conducted virtually, apparently as a preliminary round to zero in on a smaller list of candidates that would meet in person with owner Jim Irsay.
The list of candidates still in the running is as follows: Packers special teams coordinator Rich Bisaccia, Bengals offensive coordinator Brian Callahan, Lions defensive coordinator Aaron Glenn, Giants defensive coordinator Don Martindale, Rams defensive coordinator Raheem Morris, Eagles offensive coordinator Shane Steichen and Colts interim coach Jeff Saturday.
Obviously, no clear front-runner has emerged. Indianapolis is set to conduct a rare third round of interviews, and it'll be interesting to see who makes the cut. Breer points out that Callahan has some personal ties that could make him an appealing candidate to the Colts. He was an offensive assistant with the Broncos when Peyton Manning was there, and Irsay values Manning's input. Callahan's father, Bill, was a coach at Wisconsin when Colts general manager Chris Ballard played wide receiver for the Badgers. Morris also has connections to people already in the building, having coached alongside current Colts defensive coordinator Gus Bradley with the Buccaneers.
The other hirings
The Texans, Panthers and Broncos have already filled their vacancies. Houston hired former 49ers defensive coordinator DeMeco Ryans, who spent six seasons with the Texans as a linebacker. It was only a matter of time before Ryans, the brains behind the best defense in the NFL this season, got a head coaching opportunity, and returning home to Houston seems like a perfect fit. Carolina hired Frank Reich, whose dismissal in Indianapolis seemed premature. Unlike with the Colts, Reich will get to handpick his quarterback after the departures of Baker Mayfield and Sam Darnold. Denver made a big splash in hiring former Saints coach Sean Payton, who was introduced yesterday and made it clear that he's running the show—not Russell Wilson.
The best of Sports Illustrated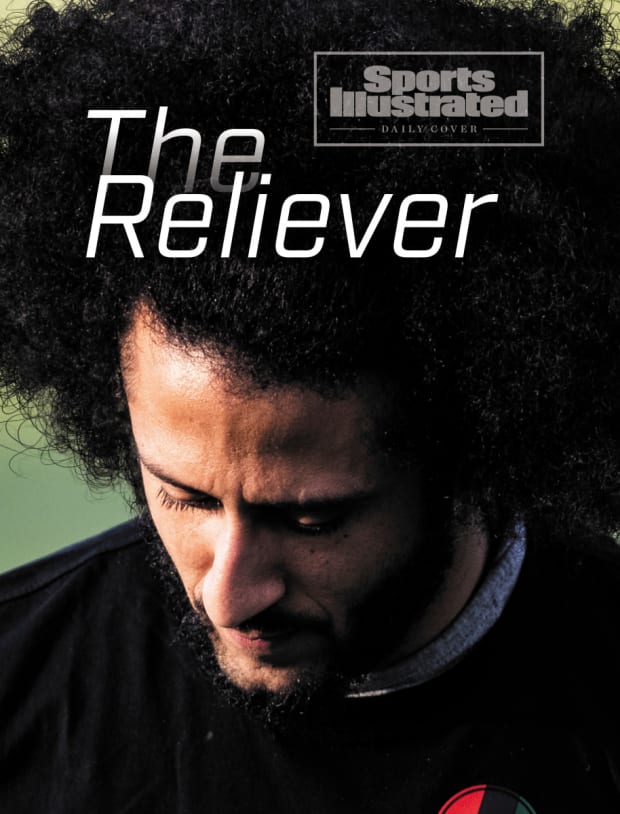 In one such case, a $100 million lawsuit filed by the family of 23-year-old Robert Adams against the city of San Bernardino, Calif., late last year, a Kaepernick-funded autopsy confirmed what security cameras had captured on video: that police shot and killed Adams seven times in his back and side as he was fleeing from them in a parking lot. Here, the value of the independent autopsy was less in contradicting the state's position, that Adams was armed and intended to take cover behind nearby cars to return fire, and more in providing expert documentation of the truth about Adams's fatal injuries.
The top five...
… things I saw last night:
5. Klay Thompson's 27-point first half.
4. The Devils' three goals in 50 seconds against the Canucks. (Vancouver came back to tie the game, but New Jersey won in overtime.)
3. Cam Thomas's 47 points for the Nets. (At 21, Thomas is the second-youngest player—behind LeBron James—to have at least 40 points in back-to-back games.)
2. Jacob Trouba's big, clean hit on Nazem Kadri. (It was a physical game between the Flames and Rangers that featured two other fights.)
1. Damian Lillard's casual three from just inside the half-court line.
SIQ
Hall of Famer Steve Nash, who turns 49 today, was somehow offered only one NCAA scholarship coming out of high school in Canada. What was the only U.S. school willing to take a chance on Nash?
Santa Clara
Saint Mary's
Pepperdine
Pacific
Yesterday's SIQ: Who is the only player in NFL history with more than 500 pass attempts and more than 650 punts?
Norm Van Brocklin
George Blanda
Danny White
Tom Tupa
Answer: Tom Tupa. He played quarterback and punter at Ohio State and was drafted in the third round by the Cardinals in 1988 to play quarterback. He started 11 games at QB in '91, going 4–7, and after one season as a backup quarterback with the Colts in '92 enjoyed a second act as a punter.
Tupa's running and passing ability made him a great candidate to run trick plays. In 1994, he scored the first two-point conversion in NFL history when the Browns lined up for an extra point with Tupa as the holder, and he took off running.
Tupa's last meaningful action at quarterback came in 1999 with the Jets when Vinny Testaverde went down with a season-ending injury in the second half of the first game of the year. New York coach Bill Parcells had designated Tupa as the backup quarterback on the game-day roster, with Rick Mirer as the emergency third quarterback. Under NFL rules at the time, if Mirer had entered the game, that would mean that Tupa would have to sit out the rest of the day. So Tupa was pressed into duty at quarterback for the final two-and-a-half quarters of the game. He completed six of 10 passes for 165 yards and two touchdowns. The Jets lost to the Patriots, 30–28, but Tupa was the only reason they stood a chance. I bet the 49ers wish their punter could have played under center in the NFC championship game.
Sports Illustrated may receive compensation for some links to products and services on this website.