Warren Moon was playing in Reggie Jackson's celebrity golf tournament in West Palm Beach, Fla., eight days ago. He watched the second of two conference championship games unfold from inside a restaurant, sitting with two other retired NFL luminaries, Jerome Bettis and Mark Clayton. The Eagles having already toppled the 49ers earlier that afternoon, they all wondered the same thing.
If the Chiefs beat the Bengals, that would mean that Patrick Mahomes and Jalen Hurts would start at quarterback in Super Bowl LVII. "Has that ever happened before?" Moon asked the group. "Two Black quarterbacks starting in the Super Bowl?"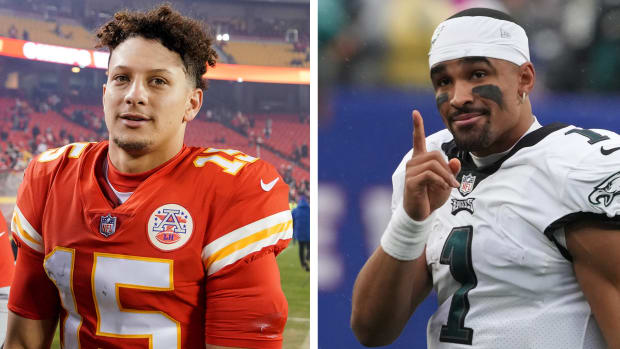 It turns out, no. Sunday's clash will carry that historical significance. And it was made possible by men like Moon, who endured insults and threats from the worst of society just to throw footballs so well that he made the Pro Football Hall of Fame. He fired off a tweet. Within minutes, it had something like 800,000 views. Reporters began calling, as did old teammates, other Black signal-callers and everyone else he knew who understood what this moment would mean, but especially to Moon.
His mind spun with thoughts. (1) It was cool that Super Bowl LVII would be held during Black History Month. (2) Others might not consider the totality of two Black men, in 2023, starting at quarterback in a Super Bowl. It is important because it has never happened before. Because quarterbacks like Moon had to go to the CFL just to prove their worth. Moon was part of a generation that faced down stereotypes: that he wasn't a leader, that his teammates wouldn't listen to him, that he wasn't smart. "Now," he says, "you're gonna have two guys who are not even 27 years old lead their franchises into the biggest sporting event in the world."
Mahomes and Hurts are all the things that Moon was: smart, natural leaders, franchise cornerstones. For Moon and other trailblazers, the historical significance of LVII gets complicated. Mahomes was drafted in the first round; Hurts went in the second. Neither had to go to Canada for six seasons to prove themselves. Moon is happy for them—and yet, he cannot help but consider what might have been if he had the same chance early in his career. How many Super Bowls might he have won?
"I don't think they played with the burden of responsibility that we played with," Moon says. "It's all been done now. They're accepted for who they are and how good they are. We were trying to prove ourselves, just to get a chance. And that's a tough burden to play with. You think about it all the time. If we didn't have that extra responsibility, we might have been even better players. They're not judged like we were.
"I would go into the Black community and people would say, You got to represent us. You got to represent me. Everywhere around the country. That's something you never sign up for when you start playing quarterback. But that became part of it. And that's just something you had to deal with."
Moon began to count over the phone: Doug Williams (1988, the first Black QB to start in a Super Bowl), the late Steve McNair (2000), Donovan McNabb ('05), Colin Kaepernick ('13), Russell Wilson ('14, '15), Cam Newton ('16), Mahomes ('20, '21, '23) and Hurts ('23). That makes 11 Super Bowl starts for Black quarterbacks, in 57 iterations of the game. That's ridiculously backward. But this, the first pairing, is also progress—significant, critical progress.
"I don't know if it has taken longer than I thought, but I knew it would eventually happen," Moon says. "And who knows if it'll ever happen again. But I have a feeling it will. Both of these guys are probably going to win a couple. Lamar Jackson, once he gets healthy, he's another guy I think can get this far.
"And for those who don't think that's significant, fine. But I've been on the journey, so I know what the importance is. Hopefully it won't even be talked about anymore, going forward, because everything has been done now."
---
ONE ANECDOTE, NOTHING MORE:
"Can I tell you a quick story?" Chuck Smith asks, unnecessarily. This is the greatest developer of pass rushers alive, and he's talking about Chiefs defensive end Frank Clark. Both were at Von Miller's Pass Rush Summit a few years ago. Smith runs it, and he likes to call on the NFL's best to stand up and speak. Aaron Donald spoke. So did Yannick Ngakoue. So did Miller himself. They gave advice, or spoke about what motivated them, or told stories of the mentors who made their illustrious careers possible. Sometimes, they showed film clips and explained what worked on a particular play.
Clark's turn came next. Smith sat next to Miller as Clark smiled the widest smile. "Hey, I'm just gonna tell you like this," he started. "I'm a dawg. I'm the best pass rusher in the world. And let me tell you who I am."
He continued. "The way I train, the way I push myself, I'm gonna tell you this: I don't take a backseat to nobody. I'm the best in the world!" This went on for a few minutes. It's clear that calling Clark "confident" is an understatement. Perhaps that's why Clark ranks third all time in postseason sacks. His 13.5 trail only Bruce Smith (14.5) and Willie McGinest (16.0) and rank ahead of Terrell Suggs, Reggie White, Dwight Freeney and many other stars. That's why he's known as Playoff Frank.
Miller stood up and applauded. "That's my guy!" he shouted, as the rest of the room joined in.
"You watch him, and you know that's who he is," Smith says. "He's a dawg. He's a leader. He has supreme confidence in himself."
Told of this story Thursday, a teammate of Clark's in Seattle, Cliff Avril, laughed for what seemed like 30 seconds. "Yup," Avril said. "That's him."
---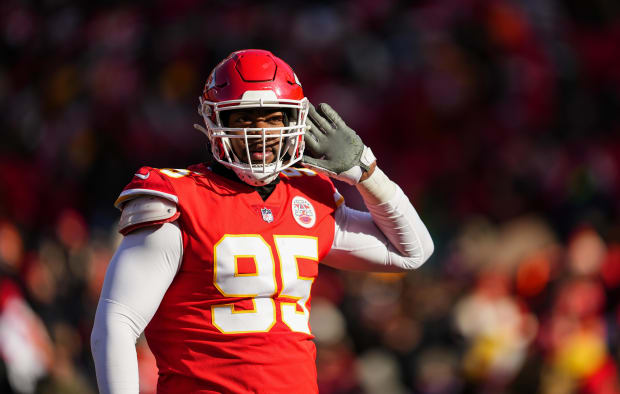 STRAIGHT Q&A:
How did Chris Jones become Chris Jones?
Chuck Smith: It starts with a team seeing a mold, almost like clay, that had so much potential. You could see coming out of college that he was primarily a power rusher. But you could see a guy who had a workmanlike mindset and was smart enough to know he had to develop some signature moves. They molded him. But I also give Chris a lot of credit for working tirelessly for years. Chris is the next generation of pass rusher, in that his size doesn't dictate where he rushers, because he uses moves and he also still has power.
---
THEN TO NOW:
I loved this paragraph about Andy Reid that didn't make the story when the Bucs won two years ago. It still applies.
"[Andy] Reid listened to his players, like, really listened to them," Donovan McNabb said. He told them about growing up in L.A., the son of a radiologist mother and a scenic artist father who painted backdrops for shows on Broadway. He told them about his friends and asked them about their lives, the racism they confronted, their deepest fears every time sirens wailed from the police car pulling in behind them. He told them about Angela Davis, the famous political activist he came to know in the early 1980s, the person he thought about often as 2020 increasingly highlighted America's divisions. That wasn't his experience, not at Marshall High School, where the students were of every race, ethnicity and religion. That wasn't his experience in the NFL, where most of his players were Black. "I just hate to think that we're at this point now," he said. "I would hope that we're beyond this, but we're not, and it aggravates me."
---
ON BACKGROUND:
The vast majority of executives, coaches and scouts I've talked to in the last week like the Eagles to win Super Bowl LVII. They point to one thing more than any other: When Jalen Hurts has been healthy, Philadelphia, with its complete roster, its balance, its pass rush and its skill-position players, has simply dominated everyone in its path. For the two people who said they'd bet the Chiefs, both pointed to the same place: Patrick Mahomes. Although one also wondered whether they wanted to be swayed by him.
---
QUOTE WITHOUT CONTEXT:
"He already was one of the greatest coaches of all time. He'll just keep climbing the ranks and, hopefully by the end of it all, he's on top with all of us."
---
CONTEXT:
This was Patrick Mahomes, speaking with Sports Illustrated in early 2021, before losing to the Bucs. It's worth noting: He's not wrong about Andy Reid. The case now is even stronger, after an AFC championship game loss last season and a return to the Super Bowl this year. We'll explore this concept more this week. But it's far easier to find those who consider Reid not just a Hall of Fame coach but a Mount Rushmore coach. And that's now. Imagine a few years from now. Slam dunk.
---
ELSEWHERE ON THE MMQB:
• Albert Breer on how the Chiefs, long ago, started building around Mahomes
• Breer's 10 Takeaways: the remaining coach openings and more
• Jimmy Traina on the Tony Romo backlash