Back-to-back NBA MVP runner-up Joel Embiid is in position to unseat two-time reigning MVP Nikola Jokić and capture the league's top individual honor with less than three weeks left in the regular season. He'll have a chance to make his case when he faces his top rivals for the award over the next few days.
Embiid recently passed Jokić as the betting favorite to win his first-ever MVP award. The 76ers big man is the odds-on favorite at -152, while the Nuggets center has dropped to +225. Giannis Antetokounmpo, who won it in 2019 and '20, is still very much in the conversation at +250 odds and his the Bucks own the best record in basketball.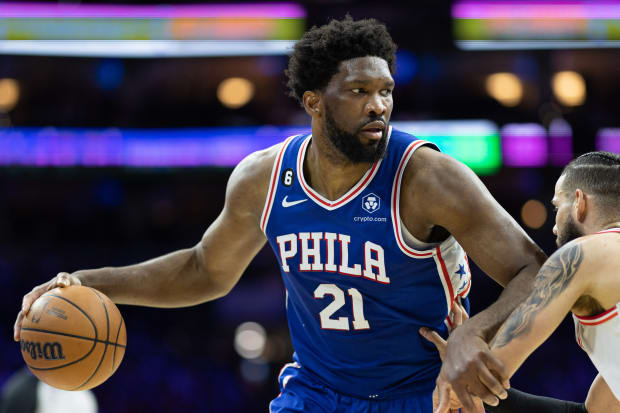 Just before the All-Star break, Jokić was a -175 favorite, Embiid was a distant second at +400 and Antetokounmpo was in third with +650 odds. In ESPN's Tim Bontemps' second MVP straw poll of the season from Feb. 16, Jokić was the runaway favorite with 77 first-place votes. Antetokounmpo had 11 and Embiid only six.
History is on the line for Jokić as only three players—Larry Bird, Wilt Chamberlain and Bill Russell—have ever won three consecutive MVPs.
Since the All-Star break, Denver has not been nearly as dominant as it was earlier in the season. The Nuggets have gone 8–6, including a four-game losing streak that allowed the Kings and Grizzlies to narrow the gap in the Western Conference. Philadelphia is 11–4 over that same stretch and Milwaukee is 11–3.
Jokić's candidacy took a hit during that skid, especially considering Embiid was in the midst of powering the 76ers to an eight-game winning streak that allowed them to briefly overtake the Celtics in the Eastern Conference standings.
Each player's statistical case is ludicrous in its own right. Embiid is primed to lead the league in scoring once again, this time with a career-high 33.2 points per game average, and his field-goal percentage is up to 54.7%, also a career-best mark. Jokić is 0.1 assists per game shy of a triple-double average; he's second in the league in rebounds per game (11.9) and his shooting splits are just silly: 64/40/82.
As for Antetokounmpo, he's improved his scoring average to 31.2 points per game, a career-high and fifth-best in the league. He's also led Milwaukee (52-20) to the best record in the NBA so far, same as he did in both of his previous MVP campaigns. And he's done so without Khris Middleton for much of the year.
Philadelphia (49–23) has the third-best record in the East and the league at large and Denver (49–24), which stands atop the West, has the fourth-best mark.
Jokić (65) currently has the advantage in games played over Embiid (59) and Antetokounmpo (57). All three candidates have crucial games coming up against one another that could swing voters who are on the fence with such a tight race playing out.
The Nuggets and Bucks play Saturday and Denver faces the 76ers on Monday. Milaukee and Philadelphia also have one more meeting April 2.
Embiid and Antetokounmpo have been relatively evenly matched in their three head-to-head meetings so far, though the Sixers lead the season series, 2–1. But when Embiid got his first shot at Jokić on Jan. 28, he exploded for 47 points and 18 boards in a seven-point win. The reigning MVP countered with 24 points, eight rebounds and nine assists.
The three candidates who have separated themselves from the field each have either nine or 10 games remaining before they begin their respective playoff runs. The MVP discourse won't let up when the regular season wraps April 9, but by the end of next month, Embiid will have his first, Antetokounmpo his third or Jokić will have made history.
Joel Embiid -152
Nikola Jokić +225
Giannis Antetokounmpo +250
Jayson Tatum +10000
Luka Donić +20000
LeBron James +50000
---
If you or someone you know has a gambling problem and wants help, call the National Council for Problem Gambling 1-800-522-4700.