MIAMI — Sipping a Presidente and sporting Team USA shower slides, the best No. 9 hitter in baseball history wound through the bowels of loanDepot Park and considered his past 24 hours: eight runs batted in; three dingers; two wins. What more would Phillies shortstop Trea Turner have to do to convince United States manager Mark DeRosa to lift him in the batting order?
"I hope they never move me up!" Turner roared, his voice still raspy from when he lost it celebrating his grand slam a night earlier. "I'm trying to hit ninth for the rest of my life!"
It's not the worst idea, given how he has keyed his country from that spot. After Sunday's rout of Cuba, 14–2, in a game that made it that far only because the semifinals do not feature the mercy rule, the U.S. stands one game away from repeating as World Baseball Classic champions.
Turner is having a great time. Just don't ask him to quantify what he's done. On Saturday, after his eighth-inning grand slam vaulted the U.S. from a two-run deficit to a two-run lead over Venezuela, a reporter told him that it had been only the third one in Team USA history.
"All I care about is winning," Turner said. "I don't care about all those stats."
But he keeps racking them up, so he will keep hearing about them. Informed on Sunday that he had joined Ken Griffey Jr., the Hall of Famer and team hitting coach, as the only two players to hit two home runs in a WBC game from the U.S., Turner grinned. "I just can't wait to tell him," he said. "I don't know if he knows that. I didn't know that. I can't wait to have that conversation tomorrow in the cage."
He started to laugh halfway through the next question, about whether he knew he had become the first player in WBC history with four RBIs in consecutive games. "I don't know any of these things," he said. "I'm just trying to win with these guys."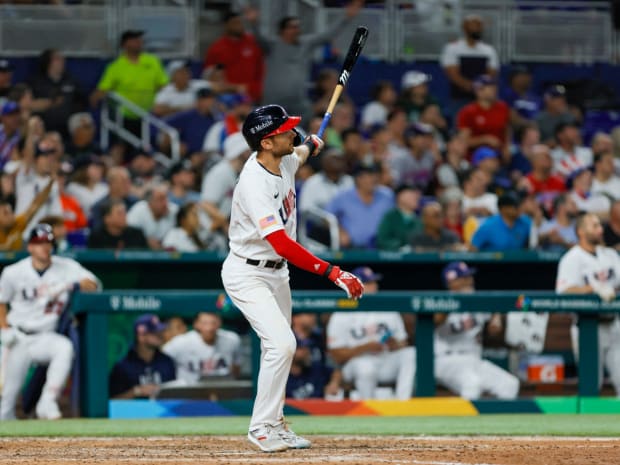 Well, just for the record: He is hitting .368. He is slugging an even 1.000. His four home runs this tournament are the most by a Team USA player in a single WBC.
"I kept saying, every time he went deep, who is the idiot that's hitting him ninth?" joked manager Mark DeRosa. "But that's the way this lineup's built. So I'm going to leave him alone right now."
Indeed, it's hard to fault DeRosa when the eight hitters who batted ahead of Turner on Sunday were Dodgers right fielder Mookie Betts, Angels center fielder Mike Trout, Cardinals first baseman Paul Goldschmidt, Cardinals third baseman Nolan Arenado, Phillies left fielder Kyle Schwarber, Dodgers catcher Will Smith, Mets DH Pete Alonso and White Sox shortstop (playing second base) Tim Anderson.
So Turner hits ninth, and he has found himself enjoying it. He has not gone deep in spring training since 2019, but this tournament at this time of year seems to agree with him. Hitting higher does not burden him with any pressure, he said. Still, in his current role, he can remind himself that he just has to make contact, to set the table for the top of the lineup. You're good enough, he told himself Saturday as he strode to the plate with the bases loaded and nobody out in the top of the eighth inning. He got an 0–2 changeup and walloped it so hard he tossed his bat and pirouetted. He blacked out as he danced home.
"He's just such a talented hitter, and he's really in control of the at-bats," gushed Arenado, who is himself hitting .391 this tournament. "He doesn't have a lot of head movement, and when you see him, you don't think he's some strong dude, but he's stronger than you think."
Indeed, Turner is listed at 6'2" and just 185 pounds, but he has cut the sleeves off his undershirt, perhaps to show off his guns. Remarkably, that was not his most surprising fashion choice of the night. After his first home run of the night, he threw away one of his batting gloves.
"It had a big hole in it," he explained, adding, "I'm not a superstitious guy. I think in 2020 I had a 13-, 14-game hitting streak and I went to go change my batting gloves and I was like, 'Man, I shouldn't change 'em.' And Kevin Long, my hitting coach at the time, said, 'It's not the batting gloves.'"
It's not the position in the batting order, either. But Turner will stay there just the same.