Welcome to The Weekly Takedown, Sports Illustrated's in-depth look at MMA. Every week, this column offers insight and information on the most noteworthy stories in the fight world.
Calvin Kattar has sat and watched as the featherweight has taken shape since undisputed champ Alexander Volkanovski temporarily left his post to challenge Islam Makhachev for the lightweight title. Nearly every detail unfolded just as Kattar anticipated, with one monumental difference: he is entirely removed from it.
Recovering from a torn ACL suffered last October in a headline Fight Night bout against Arnold Allen, Kattar also lost in excruciating fashion in his prior fight against Josh Emmett. That took place last June, and judges surprisingly awarded the fight to Emmett, robbing Kattar of a shot at the interim title against Yair Rodriguez.
That defeat was further compounded by the ACL tear in his fight against Allen, a rising star of the division. But Kattar has not made headlines for complaints or spent his time bitterly chastising the judges. Instead, the native of Methuen, Massachusetts is back grinding, rehabbing his knee and doing everything possible to get ahead of his 2024 return date.
"I'm trying to get back as soon as possible, but I've got to respect the recovery progress," says Kattar. "I'm focusing on my rehab."
Kattar's ACL tear occurred only eight seconds into the second round in the fight against Allen. He felt an odd sensation near the end of the first round, and it immediately worsened at the start of the second.
"I felt my knee move in the first round," says Kattar (23-7). "I felt something, but I thought I could go on. Then I got barely hit in the second round, but a light kick caused me to hit the deck. That's when I knew something was wrong."
Even with the injury, Kattar is as active as ever. His Combat Zone MMA promotion ran a fight card last Thursday at the Encore Boston Harbor casino.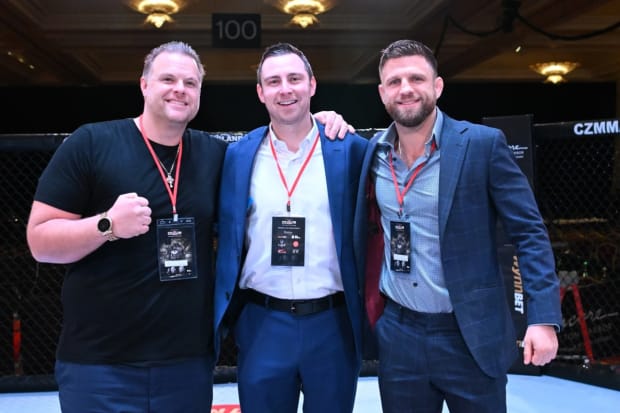 Featuring a collection of hungry talent, including former UFC fighter Kris Moutinho (who was cornered by bantamweight contender Rob Font), it was an outstanding night of fights in the ballroom.
"It's important to keep that stage available for the next generation to go out and compete," says Kattar, who fought for the promotion before becoming its owner. "If it wasn't for Combat Zone, I never would have made it to the UFC. And the opportunity to fight in front of Dana might make that dream to get to the UFC a little more tangible."
Kattar, who turns 35 before the end of the month, is acutely aware of what he is missing while caught on the injured reserve. He is intimately familiar with the cruel nature of the fight business, and the pain of sitting out as the featherweight division evolves far exceeds the pain from his ACL. Yet Kattar is honored to contribute to the sport in a different manner, providing opportunities for the young, hungry, and overlooked.
"I'm looking for the positives, and this injury has allowed me to spend a lot of time with Combat Zone and provided me with a different view of the fight business," says Kattar, who bought Combat Zone in 2013 and turned it into a family business–his brother Jamison promotes the fights. "We're ready to go to the next level, especially with Encore and [entertainment group] Big Night Live. Stay tuned, there are big things to come."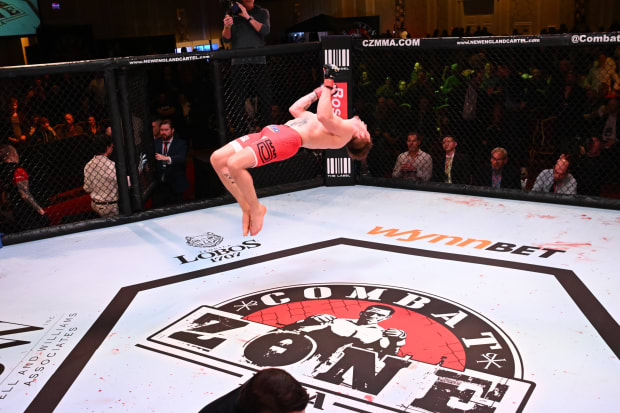 UFC President Dana White was also visible during the Combat Zone card, sitting in the front row and scouting talent for his "Lookin' for a Fight" series. Kattar lightheartedly mentioned that he and White did not share ideas for an upcoming opponent. But that is undoubtedly running through Kattar's mind.
Kattar's pursuit of the featherweight title will continue. It will take place at a rehab center, without fanfare, with beads of sweat dripping off his temple. Following losses to Max Holloway, Emmett, and Arnold, the mere suggestion of Kattar re-entering the title picture is instantly met with a whole lot of doubt from the MMA community. In some ways, that is a blessing in disguise, as it is a recipe that will further fuel Kattar's fire.
Whether you believe in him or not is irrelevant. Kattar is ready to embrace this massive challenge.
"I'm at my best when my back is against the wall," says Kattar. "I'm fighting to be back by 2024 at the latest. I'm excited to put in the work and get back out there.
"I couldn't be more motivated after my last two fights. Next time I step in the cage, I am going to remind people who I am."
Chito Vera takes one step closer to bantamweight title shot if he beats Cory Sandhagen on Saturday
Chito Vera meets Cory Sandhagen in the headline bout of Saturday's UFC Fight Night, and the result should help shape the top of the bantamweight contenders.
The future of the decision will be decided in May when Aljamain Sterling defends the title against Henry Cejudo. If Sterling wins, he will likely vacate the title and move to featherweight. More uncertainty exists if Cejudo wins. Would that mean that Sterling stays for a rematch? But the top contender is Merab Dvalishvili, and Vera will put himself in that same category if he defeats Sandhagen on Saturday.
Vera (20-7-1) is coming off a knockout of the great Dom Cruz last August. A win against Sandhagen (15-4), who has proven to be a perennial contender but just shy of elite, would put him in line with Dvalishvili and Sean O'Malley as the top contenders for the belt. Cejudo's future is also up in the air–after a three-year retirement, what will he do following this fight? And will he remain a bantamweight?
But the focus now is Vera and Sandhagen. This has the making of an outstanding night, and it is one that Vera must win in order to put himself in title contention. I see it ending in a decision, but it will also be worth watching to see if he can stalk Sandhagen and finish him.
Justin Barrasso can be reached at JBarrasso@gmail.com. Follow him on Twitter @JustinBarrasso.