It felt like October, the air just crisp enough to communicate the changing calendar, fans pulling on jackets as darkness settled over the middle innings. It sounded like it, too, with tens of thousands voicing their anxious hope with each pitch.
A few days remain in September. But the Orioles look ready to play deep into October. With their 100th win of the season on Thursday, a 2–0 victory over the Red Sox, they clinched a division title and the corresponding bye for the first round of the playoffs.
It represents a remarkable turnaround for a club that spent much of the last half-decade in last place. (This is the quickest a team has ever gone from losing 110 games to winning 100—with just one season in between those two bookmarks.) And their performance this year has made it easy to forget just how recent that history of losing was. With the Orioles' stacked lineup and dominant bullpen, they have become the winningest team in the American League, and they have every reason to look forward to the fall. Just before popping the champagne, however, Baltimore manager Brandon Hyde invited his team to look back.
"Nobody gave us a chance to start this year," Hyde told his team. "Nobody."
Hyde paused—for dramatic effect, perhaps, but it felt like a moment of reflection, too. The Orioles had lost 115 games the season before Hyde came to Baltimore, 108 in his first season, 110 just two seasons ago. He had seen lots of bad baseball in a fairly short time. But that gave way to growing pains, and those gave way to this, a clubhouse wrapped in plastic to protect from champagne showers.
"That's 100 wins right there," Hyde roared to finish off his speech.
The Orioles clinched their playoff spot nearly two weeks ago with a win over the Rays. That secured the team's first postseason appearance in seven years and the first ever for much of this young roster. But these Orioles had grander ambitions. After starting the year behind the red-hot Rays in the AL East, they'd come back to spend the entirety of the second half in first place, and they wanted to make sure they would secure the pennant. That first celebration had been sweet, Baltimore players said. But this one was sweeter.
"I think everyone was happy for that one," said Orioles catcher Adley Rutschman, grinning with champagne in one hand and cigar in the other. "But we had our sights set on here and getting to this point."
Rutschman is the heart of this young core. The No. 1 overall pick in 2019, he arrived here as a product of those years of losing, and he now shares a roster with fellow high draft picks Gunnar Henderson, Heston Kjerstad and Grayson Rodriguez. They are experiencing a success this club has not seen in decades. (The Orioles' last 100-win season came in 1980—a generation, a championship, a stadium ago.) Yet there is real reason to believe this year might represent not the peak of their success but simply the beginning.
(As if to underscore that point, in the third inning on Thursday, the team announced on the scoreboard that it had reached an agreement to remain in town and at Camden Yards for the next 30 years: The Orioles' lease at the stadium had previously been due to expire on Dec. 31st. The terms of the new agreement between the team, Maryland governor Wes Moore, and the Maryland Stadium Authority were not immediately available.)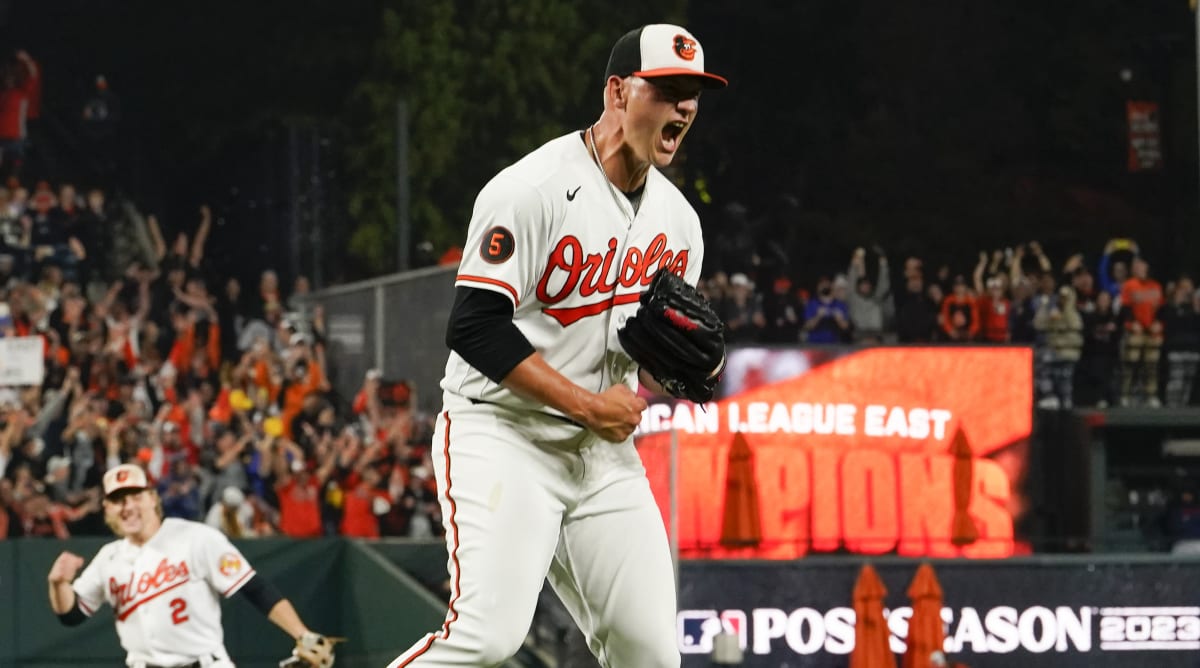 The nine years since the Orioles' last AL East title have felt like an organizational lifetime. Every player from that 2014 team is gone. Just one member of the current roster was in the organization at all for that run: Pitcher John Means was drafted that year in the 11th round and finished the summer in Low-A Aberdeen. Hyde was a bench coach for the Cubs. General manager Mike Elias was the scouting director for the Astros. The club has turned over almost completely since its last division title.
The years in between were not easy. When Means debuted in 2018, the team was in the second of three consecutive seasons in the basement. This is his sixth year with the big-league club but his first with a finish above fourth place.
"That much losing, it wears on you a little bit," Means said before Thursday's clinching game. "Just to be a part of a winning club, there's nothing like it, and we just wanted it so bad. To finally be here is a great feeling."
This division title was long awaited. But it did not feel surprising, Means said. As the club restocked its farm system and refocused on player development, he'd seen this coming, and now, finally, he could confirm what he'd suspected would be true all along. He could say that it was worth the wait.
"Maybe at this level, it was hard to see. But you looked down at the lower levels and you saw what was coming," Means said. "To be here now… it's so special."