This is an archived article and the information in the article may be outdated. Please look at the time stamp on the story to see when it was last updated.
SAN DIEGO — Aztecs basketball coach Steve Fisher made national headlines after Thursday night's game against the New Mexico State Aggies after blasting the NCAA.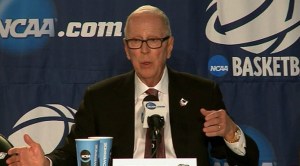 Fisher attacked the organization for making the Aggies pack up and fly home after a long game and loss.
"I'm going to do something I never do," said Fisher during a post game press conference. "I'm going to complain about the NCAA process and hope someone writes it."
"You can't tell me they couldn't find charter planes. That's what they told me. I  should not have to call NCAA, and I did today, to ask why."
A similar situation happened to SDSU last year after losing to Florida Gulf Coast in Pennsylvania.  The team jumped on a plane after losing the game and was stuck on the runway for more than two hours to avoid a snowstorm.  SDSU finally made it back to San Diego some 10 hours later.
"They make a lot of money on these kids," said basketball fan John Hicks.  "They should at least let them stay a night and then let them go in the morning."
Other fans, however, didn't sympathize.
"These kids are 19, 20 years old," said another basketball fan.  "Believe me they can stay up all night. "
Fox 5 contacted the NCAA to learn more about the practices in getting teams home after games, but as of news time it had not returned our call.
The New Mexico State Aggies left Washington around 2:15 a.m. and landed around 6 a.m.