This is an archived article and the information in the article may be outdated. Please look at the time stamp on the story to see when it was last updated.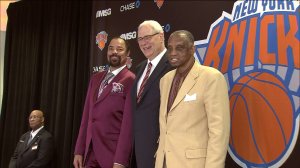 A refreshed-looking Phil Jackson was introduced Tuesday morning as president of the New York Knicks, the newly minted basketball executive saying restoring his one-time team to greatness would represent "a pinnacle" of his extraordinary career.
Flanked by Knicks owner Jim Dolan and General Manager Steve Mills at his introductory news conference at Madison Square Garden, Jackson made no promises about a quick turnaround but said he intended to foster a culture that emphasized team basketball regardless of whether it eventually runs the triangle offense.
"It's not an insistence," Jackson said of his preferred offense, "but I do like to have a system and I like a method of playing basketball. I think there's a logical method of playing basketball in which there's a number of principles."
Jackson said he was given a five-year contract and intended to live primarily in New York once he resolved some logistical and medical issues.
One concern he apparently won't have to overcome: a meddlesome Dolan. When asked whether he would cede authority of basketball operations to Jackson, the notoriously hands-on Dolan said, "Willingly and gratefully, yeah."
Said Jackson: "Jim knew I wasn't going to come if this didn't happen, so there's no reason not for him to have said it. Otherwise, I wouldn't be here."
Jackson said he wanted the team to retain star player Carmelo Anthony, who can opt out of his contract after the season, and would consider keeping Coach Mike Woodson, who has guided the team back into playoff contention after a horrid start to its season.
"I have no problems with saying that Carmelo is in the future plans," Jackson said. "As great a player as he is, he still has another level he can go to and together with the team we create he can get there."
Jackson acknowledged the challenges he faces rebuilding a team that does not have a first-round draft pick this summer and will remain above the salary cap until 2015, forcing it to get creative with roster decisions.