This is an archived article and the information in the article may be outdated. Please look at the time stamp on the story to see when it was last updated.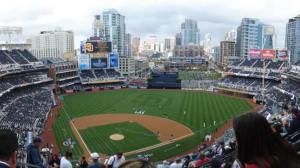 SAN DIEGO — The Padres announced Wednesday that the team's home opener against the Los Angeles Dodgers next week is sold out, aside from a handful of scattered single seats.
The first contest of the new season at Petco Park is scheduled for Tuesday, with the first pitch scheduled for 3:40 p.m. More than 43,000 tickets have been sold, according to the team.
The game will also be the first since sections of the Petco Park outfield fence were moved in to allow a more fair playing field for batters in what has been Major League Baseball's most favorable pitcher's park. The alterations will be most pronounced in right field, where the wall is about 11 feet closer to home plate.
The Padres also moved the visitors bullpen to behind center field, behind the warm-up spot for the home team relievers.
The Padres are on the road in New York. They travel to Denver for a series against the Colorado Rockies this weekend.