This is an archived article and the information in the article may be outdated. Please look at the time stamp on the story to see when it was last updated.
SAN DIEGO — The Major League Baseball commissioner's office Wedneday suspended Padres centerfielder Cameron Maybin for 25 games without pay after he tested positive for amphetamines.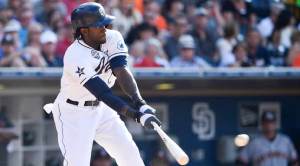 "I'm disappointed in Cameron's violation of MLB's Joint Drug Prevention and Treatment Program, but am pleased that he's taking responsibility for his mistake," Padres President and CEO Mike Dee said in a statement. "The joint agreement was put into place to protect both the player and the game, and the Padres fully support it."
The Padres said the suspension will begin immediately. Maybin will be eligible to return to the active roster Aug. 20, when the team is in Los Angeles for the second game of a three-game series against the Dodgers.
He was batting .247 with one home run and nine runs batted in this season.
Last season, the Padres had two players suspended 50 games each for using performance-enhancing drugs.