This is an archived article and the information in the article may be outdated. Please look at the time stamp on the story to see when it was last updated.
SAN DIEGO — Landon Donovan has taken great pains to keep the focus of his national team comeback in the present. Next summer's World Cup, he has continued to insist, will take care of itself.
"I'm going to enjoy today and worry about tomorrow later," he said.
But it looks like the future won't wait. Because with a two-goal performance in the U.S. national team's 6-0 win over Guatemala on Friday, Donovan moved a big step closer toward securing a spot on the roster for Brazil 2014.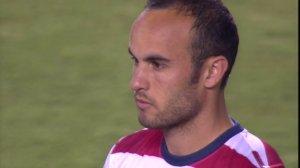 "We're happy that Landon picked up his rhythm and is part of the group again," U.S. Coach Juergen Klinsmann said. "Goals certainly help. For any offensive player, that's the best recipe."
For Donovan, the national team's all-time leader in goals and assists, Friday's game was his first for the U.S. in nearly 11 months. It was an absence caused, in part, by Donovan's decision to take a three-month break from the sport just before the final round of World Cup qualifying began.
At first the U.S. sputtered on offense without him. But in June striker Jozy Altidore caught fire, scoring in four consecutive games to carry the U.S. to the top of the regional qualifying standings.
Now with Donovan returning to form, the U.S. should be that much better. Only time — and Klinsmann — will show if that's true. For now Donovan remains on the U.S. "B" team for this month's Gold Cup while Altidore is taking a well-deserved break of his own while finalizing his transfer from Dutch club AZ to Sunderland of the English Premier League.
Klinsmann has insisted that Donovan, 31, must earn his way back to a team he has led for nearly a decade — a challenge Donovan has seemingly embraced.