This is an archived article and the information in the article may be outdated. Please look at the time stamp on the story to see when it was last updated.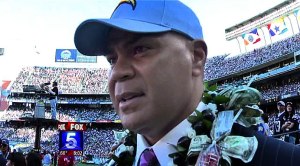 SAN DIEGO — The NFL and about 4,500 former players have tentatively agreed to settle lawsuits over brain injuries, such as one suffered by the late Chargers star linebacker Junior Seau.
"They are not accepting responsibility," said former NFL player Jamal Anderson, " but at least they put the proper foot forward to say 'hey, these players the legacy that played the game actually matter."
The $765 million settlement was reached following mediation in Philadelphia. It still requires the approval of a federal judge.
Under the agreement, the NFL and NFL Properties will provide medical benefits and injury compensation for retired NFL football players, fund medical and safety research, and cover litigation expenses.
"This agreement lets us help those who need it most and continue our work to make the game safer for current and future players," NFL Executive Vice President Jeffrey Pash said. "Commissioner (Roger) Goodell and every owner gave the legal team the same direction: do the right thing for the game and for the men who played it."
Pash said it was critical to get more help to players and families who deserve it rather than spend many years and millions of dollars on litigation. He called the agreement an important step that builds on changes made in recent years to make the game safer.
Former NFL player and  Alumni president, Jim Weatherley said, this may not be perfect but it's an opportunity to reach more players that may need the help. "
there are a lot of guys out there that are having problems and they don't know it"
Seau's family filed a lawsuit in January in San Diego Superior Court, and it was later folded into the federal case.
The Oceanside resident, who grew up in the North County seaside city, died of a self-inflicted gunshot wound in May 2012. His son said he suffered from wild mood swings, irrationality, forgetfulness, insomnia and depression that got progressively worse over time.
An examination of Seau's brain by federal health officials determined that he suffered from a debilitating brain condition common to people who have suffered repetitive head injuries.
The listed plaintiffs on the Seau lawsuit are Gina Seau, Seau's ex-wife; their children Tyler, Sydney, Jake and Hunter, and Bette Hoffman, trustee of his estate.
The office of one of the family's lawyers, Steven Strauss, said they had no immediate comment on the tentative settlement.
Former federal Judge Layn Phillips, who presided over the mediation, said the "historic agreement" will make sure that former NFL players who need and deserve compensation will receive it. He said it would also promote safety for players at all levels of football.
"Rather than litigate literally thousands of complex individual claims over many years, the parties have reached an agreement that, if approved, will provide relief and support where it is needed at a time when it is most needed," Phillips said.
Once final documentation is completed, the settlement will be filed with U.S. District Judge Anita Brody, who will schedule a hearing to consider whether to grant preliminary approval to the agreement. If the settlement receives preliminary approval, the judge will direct the parties to distribute notice to the retired players.
After giving retired players an opportunity to file objections to the settlement, she will hold a hearing to consider whether to grant final approval. The judge is expected to issue the precise schedule within a few weeks.
And for retired players who ponder the price they paid for the love of the game, we wanted to know if they would have quit if they knew then what they know now?  "
"No. Probably not, to be honest," explained Weatherley, adding " we played in the 70's to the 2000's! We played for the love of the game…not the  money."