This is an archived article and the information in the article may be outdated. Please look at the time stamp on the story to see when it was last updated.
OCEANSIDE, Calif. – Oceanside resident and professional longboarder Taylor Jensen clinched his third world surfing title during a surf-off in Taiwan.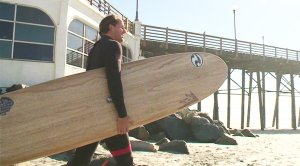 Earlier in December, Jensen clinched his third world title in a rare surf off in Taiwan.
"Pretty much most of the continents that have waves, I've been to," said Jensen.
The 33-year-old's most recent competition took him to Taiwan, where a whirlwind of events saw him lose in the quarterfinals only to battle for the title in a rare surf-off due to a tie, just the second such scenario in World Surf League history.
"With about a minute to go, I heard I was in the lead and the guy behind me needed to score and at that moment there was a little wave coming. I realized that if I could catch that wave and prevent him from getting a score that I most likely had it," said Jensen.
Jensen claimed his third world longboarding title, moving him into the record books alongside just two others who've accomplished the feat.
"I'm sort of in disbelief and then elation. It's a rollercoaster of emotions in a situation like that," said Jensen.
Jensen grew up surfing in Coronado and turned professional at the age of 16. He's been making a career of it ever since, traveling the world and getting paid to surf.
"I'm just really passionate about it," Jensen said. "I love surfing. It's kind of given me everything in my life from my career to it's how I met my wife. I've been able to travel around the world and experience different cultures."
Jensen plans to continue competing with the goal of a record-setting fourth world title.