This is an archived article and the information in the article may be outdated. Please look at the time stamp on the story to see when it was last updated.
HOUSTON – The Pro Football Hall of Fame announcement comes Saturday night for the Class of 2017 and four finalists have San Diego ties: LaDainian Tomlinson, Terrell Davis, John Lynch and the late Don Coryell.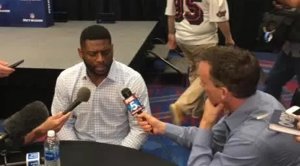 FOX 5 Sports Director Troy Hirsch had a chance to talk with Tomlinson and Davis Thursday about how they're feeling two days before the vote.
LT said his nerves might be getting the best of him. He admitted he's had trouble sleeping and had weird dreams. His coworkers at the NFL Network told him not to worry and that sleepless nights were normal leading up to the Hall of Fame Election Ceremony.
Saturday's Hall of Fame ceremony will be in Houston — not far from the town where Tomlinson grew up.
"This is home and this is where it started. It would only be right that this is where my football career ends," Tomlinson said. "It can't get any greater than getting into the Hall of Fame. You can't accomplish anything more [in this sport]. If it happens, then my football life as a player is complete."
The former Chargers star running back became a finalist in his first year of eligibility. He ranks fifth all-time in rushing yards with 13,684. He's also second in career rushing touchdowns and fifth in total scores.
Tomlinson played nine seasons in San Diego winning the Offensive Player of the Year Award and the Most Valuable Player in 2006.
LT admitted he was sad when he found out the Chargers were relocating to Los Angeles.
"I'm sad much like a lot of people in that community because 55 years is a long time. I can say I was at the height – a period of time when the Chargers had their greatest success." "Our games were always sold out. It was always loud and fans made it tough for people to come in there and play."
Lincoln High School graduate Terrell Davis, who has been a finalist for the Hall of Fame two other times, said Tomlinson is a shoe-in.  Davis is excited and hopefully about his chances of getting voted in.
Davis played for the Denver Broncos when they defeated the Green Bay Packers during the Super Bowl in San Diego.
Tampa Bay Buccaneers John Lynch — Torrey Pines High School graduate — was a Hall of Fame finalist for the fourth time.
Coryell also made it as a finalist. He coached the San Diego Chargers from 1978 to 1986 and revolutionized the passing game.
His "Air Coryell Offense" lit up the NFL and made Hall of Famers out of quarterback Dan Fouts, tight end Kellen Winslow and receiver Charlie Joiner.
Coryell spent 14 seasons coaching in the NFL and also coached the San Diego State Aztecs from 1961 through 1972.
The Pro Football Hall of Fame voting is scheduled for Saturday morning.
The Hall of Fame's Class of 2017 will be announced during "NFL Honors" which will air February 4 at 8 p.m. on FOX 5.