This is an archived article and the information in the article may be outdated. Please look at the time stamp on the story to see when it was last updated.
ALPINE, Calif. — The first Annual Lyonhearted Kickball Tournament is set to take place next Sunday in honor of Jason Lyon, a Christian High School senior who passed away in October after battling a rare Diffuse Intrinsic Pontine Glioma brain tumor.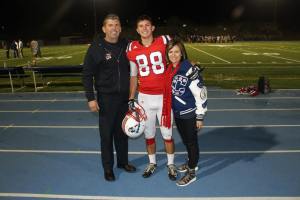 Cathedral Catholic senior Bryce Newman, who spent the last 8 months enduring two brain surgeries plus chemo and radiation in a battle with brain cancer himself, recently sent a letter to his peers urging them to participate in the event.
"I am asking my friends, teammates and the student body to please come join me in bringing awareness to Pediatric Brain Cancer so that we can try to find a cure so other kids do not have to suffer like myself and the thousands of pediatric brain cancer patients have been forced to do," Bryce said." Losing even one more child to brain cancer is not an option. Please help me raise awareness to try and stop this evil disease in its tracks."
The co-ed tournament is open to the public and to all ages. There will be a kid zone, gourmet food trucks, a silent auction, opportunity drawings and prizes for the winners. All proceeds will benefit the Lyonhearted Foundation.
1st Annual Lyonhearted Kickball Tournament

Date: April 10, 2016

Time: Team check in begins at 8 a.m.

Location: 9770 Harbison Canyon Road, Alpine, CA, 91901

For more information, click here.