This is an archived article and the information in the article may be outdated. Please look at the time stamp on the story to see when it was last updated.
SAN DIEGO — Teams from the Big Ten Conference will return to San Diego's Holiday Bowl next year and future games will include teams from the Big Ten and Pac-12 conferences, bowl officials announced Monday.
The bowl game traditionally had been between the Pac-12's second-ranked team and the fourth-ranked team from the Big 12 Conference, after BCS matchups.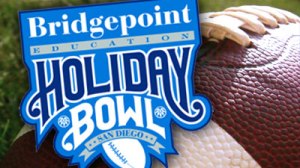 Starting in 2014, the Holiday Bowl will begin a six-year partnership with the Big Ten Conference. It also will extend for six years its relationship with the Pac-12 Conference, according to bowl officials.
Big Ten teams have played in nine Holiday Bowl games since 1979, and the bowl's last two-year partnership with the conference ended in 1994.
Big Ten Commissioner James E. Delany said he heard from team officials the Holiday Bowl was a reward destination that they wanted the conference to be a part of.
"The Holiday Bowl has a long history and tradition managing bowl games that have tremendous appeal to participating teams and their fans, and we are excited by the opportunity to return to an area of Southern California that has such a strong and vibrant Big Ten football following," Delany said.
According to bowl officials, the Holiday Bowl will have the second pick from the Pac-12 after the College Football Playoff Structure. The Big Ten team will be determined after discussion between bowl and conference officials to create the best possible matchup.
The Big Ten agreement includes a stipulation that the Holiday Bowl will not have the same team play in it more than twice during the six-year term.
Bill Geppert, 2013 Bowl President, said the Holiday Bowl was entering a new and exciting time.
"The Holiday Bowl has a rich history as `America's Most Exciting Bowl Game' and this new agreement lays the foundation for continued success," Geppert said. "In the ever-changing world of college football, we are excited to begin this new chapter that will no doubt provide a huge economic impact to San Diego as our community welcomes thousands of college football fans to our beautiful city every December."
This year's game is scheduled for Dec. 30 at 7:15 p.m.