This is an archived article and the information in the article may be outdated. Please look at the time stamp on the story to see when it was last updated.
LA JOLLA, Calif. -- For 11 years through rec-ball, travel ball and high school softball, Livy Schiele could count on her dad, as coach.
"It makes it a lot more special because I know he has been with me every step of the way," said Livy.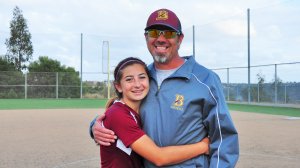 However, this year marks the final year the father and daughter can enjoy the special bond on the softball field as player and coach. The Bishops School senior will play at Auburn next year and begin a new chapter in her softball career.
"I know it will be rough going off to college without him," said Livy. "Me and my dad have always been really close."
The 5-feet, 3-inches tall outfielder batted a .611 with 59 runs scored and 35 stolen bases last year. It earned her a spot on the 2017 All-USA High School Pre-Season Softball Team for both USA Today and MaxPreps.