This is an archived article and the information in the article may be outdated. Please look at the time stamp on the story to see when it was last updated.
SANTEE, Calif. – A 16-year-old boy diagnosed with brain cancer was asked to Make-A-Wish and on Tuesday it came true.
Bryce Newman – a local baseball player - has been battling cancer since diagnosed last July. Bryce grew up on the baseball field, enjoying many successful seasons as catcher, shortstop and second baseman.
Newman rode in his 1966 cobalt blue Ford Mustang to the All-Star Game while his best friends Quinn and Wyatt Hoffman – sons of Padres legend Trevor Hoffman - drove him.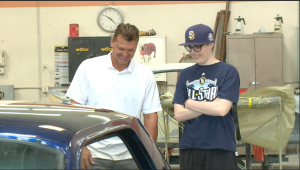 Newman met the Hoffman brothers while playing baseball and grew closer to them this past year while all attending Cathedral Catholic High School. Bryce says the Hoffman family played a big role in keeping his spirits up through numerous chemotherapy sessions and 20 hours of brain surgery.
"Trevor treats me like a regular person," said Newman. "Even though I have cancer I like being treated like a regular person. I don't have any brothers or sisters. Quinn and Wyatt are like family."
Brycen's car was purchased by a number of community members who are friends and church members of Ed Hanson, and they gave it to Brycen. Make-A-Wish San Diego helped with the cosmetic makeover, along with an army of good Samaritans and local businesses that contributed to the restoration of Newman's dream car.
"This (car) is his carrot. This brings joy to a young man who suffers in silence. I'm glad to be part of that," said Hanson from Ed Hanson's Muffler Service. Hanson has played a huge role in organizing the reconstruction of the Mustang.
"They've worked so hard and they have done so much stuff," said Newman. "It was a totally useless car. Now it's perfect. Their really special and I will never forget them. "
Petco Park was filled with Major League Baseball All-Stars Tuesday, but if you ask the Hoffman family, Bryce Newman will be the real all-star.
"Think of what all stars are in a game of baseball," said Hoffman. "How they set themselves apart from others. Certainly, he is indicative of all that. He has certainly been empowering for us. That courage he displays on a daily basis is something we take with us"
"Never give up mentality," said Quinn Hoffman. "He will always be there for his family and friends. Always has a joy and smile on his face. It's something I lean on and look up to."
Bryce was seen outside Petco Park during the All-Star Game. FOX 5's Lisa Lane tweeted this picture:
Aw Bryce looking good in his Mustang! Special kid. Love seeing that smile and know he is loving the ASG! pic.twitter.com/nXmqnwZgyZ

— Lisa Lane (@LisaLane_Sports) July 13, 2016
To follow Bryce on his journey you can check out his Facebook page "Battle for Brycen", or go to his GoFundMe page.
Full list of community members helping make Bryce Newman's dream car a reality: Ryan & Jennifer Ogden owners of Asmar's Auto Care, Benny Flores, James Write from Kali's Finest Automotive, Matt Couper from Autoworks International, Miles Warsh from Acme Garage, Greg Boehm from Valley Transmission, Julie Olmsted from Hilltop Classics, Neal Wichard, Steve Zimmerman of San Diego Gar and Axle, NAPA Auto Parts, Barry Adler at Quicktime Performance, Peter Rodgers from the Mustang Shop, Jim Alexander a supplier of Crest Leather, Bob Lubke at SoCal Paint Works, Meza Paints, Mike Himmell, Mike Slater, Make-A-Wish San Diego members Lisa Paul Hill, Suzanne Husby, and Dana Vandersip.