This is an archived article and the information in the article may be outdated. Please look at the time stamp on the story to see when it was last updated.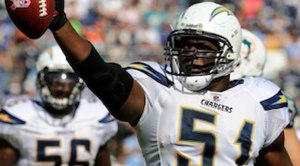 SAN DIEGO — The San Diego Chargers are releasing linebacker Takeo Spikes after 15 seasons, the team confirmed Thursday.
NFL.com first reported the release. The website reported that Spikes was set to make $3 million with the team this year.
Spikes hopes to play next season as a reserve inside linebacker with another team, the website reported.