This is an archived article and the information in the article may be outdated. Please look at the time stamp on the story to see when it was last updated.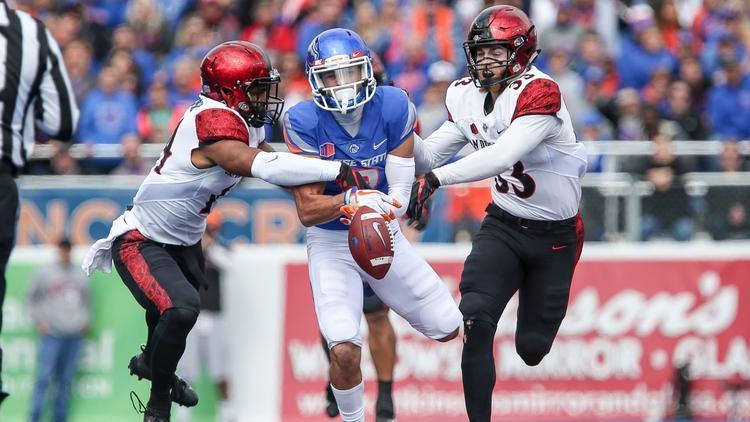 BOISE, Idaho — Boise State fans have grown accustomed to two things at home games over the past two decades — seeing lots of points and lots of wins.
When they trudge out the exits after seeing few points put up on the scoreboard and an L on the ledger, it is not only the field that is blue.
Midway through the third quarter Saturday afternoon against San Diego State at Albertsons Stadium, the video board alerted fans to a McDonald's promotion if the Broncos scored more than 40 points.
No one in the crowd of 36,679 seemed eager to download the app. Boise State had totaled but a touchdown at that juncture, a score gifted by SDSU after a fumbled first-quarter punt put the Broncos 4 yards from the end zone.
SDSU's defense stepped up again and again and again against Boise State, leading the Aztecs to a stunning 19-13 victory in their Mountain West opener. The Broncos have won 109 games on The Blue, as they call it, since the beginning of the 2000 season. They have lost just eight games at home over the same timespan. Two of the losses now have come against the Aztecs, who also beat Boise here in 2012.
The defense limited a Boise State team favored by 14 points and ranked 18th in the nation in scoring (43.3 ppg) to 30 points under its average while harassing Broncos quarterback Brett Rypien into his first two interceptions of the season. In addition, a Broncos offense that ranked eighth in the country in total offense (538.5 ypg) collected only 229 yards (178 passing/51 rushing) against the Aztecs.
SDSU seemingly sealed the victory when true freshman running back Jordan Byrd took a third-and-2 pitch around the right side and outraced everyone to the end zone 72 yards away.
It was Byrd's fourth collegiate carry.
Read Kirk Kenney's full report from Boise on San Diego Union-Tribune.