This is an archived article and the information in the article may be outdated. Please look at the time stamp on the story to see when it was last updated.
SAN DIEGO - The 19th-ranked San Diego State Aztecs football team remains undefeated after holding off Northern Illinois 34-28 Saturday night at the newly-named SDCCU Stadium.
Heisman hopeful Rashaad Penny ran for 107 yards and caught two passes for 32 yards and a touchdown - despite having his eyes gouged in the first quarter - as the Aztecs improved to 5-0 for the first time since 1975.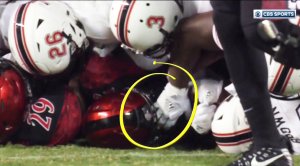 Juwan Washington returned the opening kickoff 96 yards for the opening touchdown, while freshman defensive back and St. Augustine High School product Tariq Thompson snagged two interceptions, running one of them back 83 yards for another score.
But maybe the most notable play of the night happened with 4:12 left in the first quarter. Penny found himself at the bottom of a pile after returning a Huskies kick. Then, NIU linebacker Antonio Jones-Davis was seen reaching into Penny's facemask and gouging his eyes.
The referees did not notice Jones-Davis' gouging, so no penalty was called on the play. Penny left the field holding his face, but  returned several minutes later.
"I couldn't see out of my right eye. I honestly thought I was going blind," Penny said in a post-game interview. "That's a play that shouldn't happen in any football game. You shouldn't go into anyone's facemask and try to eye-gouge them... I thought we were all more mature than that."
Penny credited the incident for motivating him to run faster and not play tentative.
"After that, I found an extra gear. I had to step up my game," Penny said.
NIU coach Rod Carey announced Sunday he was suspending Jones-Davis for the Huskies' next game.
The Aztecs return to action Saturday when they face Mountain West Conference rival UNLV in Las Vegas. Kickoff is scheduled for 7:45 p.m.