This is an archived article and the information in the article may be outdated. Please look at the time stamp on the story to see when it was last updated.
SAN DIEGO — One of the most iconic elements at Petco Park is the Western Metal Supply Co. building in left field, but it's not the only part of San Diego's heritage inside the stadium.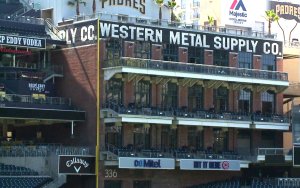 The brick building was once the site of a booming San Diego business that housed everything from car parts to sporting goods. That business went bankrupt in the 1970's. The city stepped in to have the building preserved as part of San Diego's story.
Original plans for Petco Park involved demolishing the building, but instead architects from Heritage Architecture and Planning helped bring it up to code and create a unique baseball experience for fans.
"They wanted to keep the historic character and that's something that we worked with them on, to make sure that the brick was still exposed, and that even though the building was retrofitted and sprinkled and new elevators were added, it still had that original look," said David Marshall of Heritage Architecture and Planning.
What were once storage sheds and offices are now suites, a bar and a Padres team store.
The Western Metal Supply Co. building isn't the only part of San Diego's past that's a piece of the park. On the opposite side of the complex rests what was once the Showley Bros. Candy Factory.
Opened in the mid-1920's, it shut down in the '50s. Like the Western Metal Supply Co. building, it was saved by San Diego Historical Society. But where it stands now is not its original location. It was moved once block east from what is now the Park at the Park to where it stands now at the northeast corner of 9th Avenue and K Street.
"It was a huge endeavor," Marshall said. "It is a three-story tall, 100 square-foot, completely brick building that was unreinforced masonry. It had to be not only strengthened enough for the move so it wouldn't come apart, but after it was moved, it had to be earthquake retrofit."
While not a part of the stadium structure, it's become part of its character.
The Padres will host the 87th MLB All-Star Game at Petco Park on July 12. You can watch the pre-game special on FOX 5 beginning at 2 p.m. followed by the game at 4:30 p.m.