This is an archived article and the information in the article may be outdated. Please look at the time stamp on the story to see when it was last updated.
SAN DIEGO – With the MLB All-Star Game just weeks away, the city recently posted signs instructing hundreds of homeless people living on the streets near Petco Park that they had just 72 hours to vacate the area.
Yellow 'Notice of Cleanup and Property Removal' signs were posted on light poles near the ballpark on June 23, giving the homeless until Monday to clean up and move out.
"All property left unattended in this area on that day will be removed," the signs state. Any debris left behind will be destroyed.
The MLB All-Star Game will be held Tuesday, July 12 at Petco Park and a five-day FanFest will be held before the game at the San Diego Convention Center.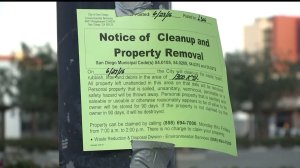 Homeless people who have their tents set up on streets near the ballpark say the city is just trying to look good for MLB and they are frustrated they have to move.
"I'm just going to do what the cops say. I'm not about to go to jail. I'm 50 years old," one man told FOX 5.
City officials say despite the claims, the cleanup is not in response to next month's game.  Spokesman Jose Ysea says the city conducts sweeps periodically to maintain the cleanliness of the sidewalks and other public access routes. He says the space is a public sidewalk, and he expects the homeless to move back to the area after the clean-up.
In April, San Diego work crews added jagged rocks along a freeway underpass where several people were living.
It's not clear what time the city will be cleaning up the streets Monday.