This is an archived article and the information in the article may be outdated. Please look at the time stamp on the story to see when it was last updated.
LA JOLLA, Calif. -- Alex Noren shot a three-under 69 on Torrey Pines Golf Course's South Course Saturday to take a one-shot lead over Ryan Palmer through three rounds of the $6.9 million Farmers Insurance Open.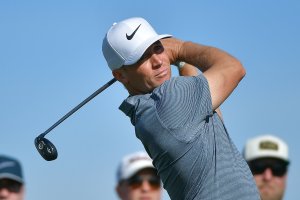 Torrey Pines High alumnus Michael Kim and J.B. Holmes are tied for third, two shots behind Noren.
After birdieing his final hole Friday to go to 1-under-par for the tournament and making the cut with no room to spare, Tiger Woods described his round of 2-under 70 Saturday as "gross."
"It was a struggle out there," said Woods, who is playing his first PGA Tour event in a year. "I didn't hit it worth a darn all day. I was really struggling out there trying to find anything that was resemblance of a golf swing. But I was scoring, I was chipping, putting, I was grinding.
"I was trying to miss the ball on the correct sides because I know I didn't have it, trying to give myself the correct angles and I did that most of the day. Then I had to rely on my touch, my feel, my putting and it's been good all week."
Woods made four birdies, including three on par 5s, and bogeys on the 11th and 16th holes. He is eight strokes off the lead at 3-under, in a five-way tie for 39th.
Noren began the round three shots off the lead. He had an eagle on the par-5 sixth hole, a double-bogey on the par-4 12th hole and birdies on the 13th, 16th and 18th holes to go to 11-under 205 for the tournament and take the lead after any round for the first time in his 36 PGA Tour starts.
Noren is a 35-year-old from Sweden who played at Oklahoma State and mainly plays on the European Tour. This is the first time he has played in the Farmers Insurance Open.
Noren's best result on the PGA Tour was tying for fifth in the 2017 World Golf Championships-Dell Technologies Match Play when he reached the quarterfinals, losing to eventual champion Dustin Johnson. His best finish in stroke play was tying for sixth in last year's British Open. He has nine victories on the European Tour, including four in 2016.
Noren is 19th on the Official World Golf Ranking, 11 spots below his highest ranking, which came in July.
Only five times since 2000, has a player leading or sharing the lead through three rounds gone on to win the Farmers Insurance Open, most recently Woods in 2013.
Palmer, the tournament leader by one shot over Jon Rahm entering Saturday's play, shot a 1-over 73. He had a birdie on the fifth hole, bogeys on the seventh and eighth, an eagle on the 13th and bogeys on the 14th and 16th.
"It was a grind," Palmer said. "I hit a lot of solid putts, just speed was off pretty bad I thought for a while there. Got a little lazy on my golf swing the last four or five holes. Unfortunately on 14 I thought I hit it perfect and ends up a foot in the rough and dead."
The eagle on 13 "made up for the whole day," Palmer said.
"I hit a great tee shot," with a 5 wood Palmer said, measured at 336 yards. "I knew it was enough club and I hit it perfect."
Palmer hit his second shot 259 yards, leaving him with a 44-foot, 6- inch putt for the eagle.
"It rolled in like I tapped it in, it rolled in so perfect," Palmer said.
The putt prompted a roar from the crowd.
"When you get those kind of roars, that's excitement," Palmer said. "You don't get that very often. That was a thrill."
Sunday is the 11th birthday of Palmer's son Mason.
"Hopefully I can go out (Sunday) and give my son, Mason, a big birthday present," Palmer said. "That would be a fun way to end the day."
Palmer has three victories on the PGA Tour, most recently the 2010 Sony Open in Hawaii. The tournament winner will receive $1.242 million.
Kim was among three golfers tied for sixth, four shots off the lead, entering the round, then shot a 2-under 70, with four birdies and bogeys on the 11th and 15th holes.
"Hit it really good all day, got some putts to go, and within range I feel like of the lead heading into tomorrow, so feel good about today," Kim said. "I feel super comfortable at this place, more so than I feel like anybody else because I've got the number of rounds in."
Rahm, the tournament's defending champion who would move into first in the Official World Golf Ranking with a victory, hit his second shot on the 18th hole into the greenside water hazard, en route to a double-bogey 7, completing his round at 3-over 75, dropping into a five-way tie for 12th, four strokes off the lead.
Rahm also had bogeys on the second, third, fourth and 12th holes and birdies on the first, sixth and 10th.