This is an archived article and the information in the article may be outdated. Please look at the time stamp on the story to see when it was last updated.

Head, hand, heart speaks to First 5 San Diego's philosophy of the need to care for the whole child during the first years of life.
First 5 San Diego promotes the health and well-being of young children during their most critical years of development, from the prenatal stage through five years of age. Our goal is to help ensure that every child in San Diego County enters school ready to succeed.
First 5 San Diego provides San Diego's youngest children with healthy development screenings, dental care, high-quality preschool, and parenting workshops.
Healthy Eating Tips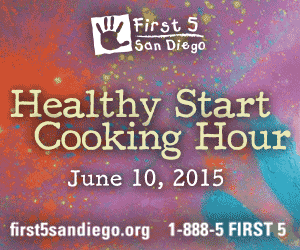 Have regular family meals. Knowing dinner is served at approximately the same time every night and that the entire family will be sitting down together is comforting and enhances appetite.
Cook more meals at home. Eating home cooked meals is healthier for the whole family and sets a great example for children about the importance of food.
Get children involved. Children enjoy helping adults to prepare dinner and it's also a chance for you to teach them about the nutritional values of different foods.
Make a variety of healthy snacks available. Keep plenty of fruits, vegetables, whole grain snacks, and healthy beverages around and easily accessible so children become used to reaching for healthy snacks.
Limit portion sizes. Don't insist your child cleans the plate, and never use food as a reward or bribe.
Find out more at the Healthy Start Cooking hour on June 10 from 11:30 a.m. to 1:30 p.m. at the Vons at 8011 University Ave., La Mesa, Calif.