This is an archived article and the information in the article may be outdated. Please look at the time stamp on the story to see when it was last updated.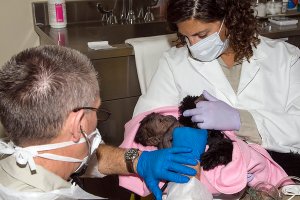 SAN DIEGO — That cute little gorilla born at the San Diego Zoo's Safari Park Wednesday night was treated for a collapsed lung Friday and is being watched over round-the-clock by veterinary staff, zoo officials said.
The unnamed female was born to 18-year-old Imani in a cesarean section performed after no progress was detected following several hours of labor.
The 4.6-pound newborn showed complications believed to be related to the difficult birthing process, and was given oxygen and supplemental fluids at the park's veterinary hospital.
This morning, the baby showed signs of respiratory distress, and veterinarians discovered a collapsed lung that subsequently was reinflated.
Park staff said the baby is showing progress and breathing better on her own, but she still is receiving oxygen and supplemental fluids as needed.
Imani, meanwhile, is recovering from the c-section.
"If this were a human you'd want no exercise for a few weeks after an operation like this, but within 24 hours she was back with her troop moving around like nothing ever happened," said Jeff Zuba, San Diego Zoo Global senior veterinarian. "We're watching her closely, we're not encouraging her to move about like that but at this point she's doing great."
The baby is the 17th gorilla to be born at the Safari Park, now home to eight members of the species, including the newborn.