This is an archived article and the information in the article may be outdated. Please look at the time stamp on the story to see when it was last updated.
SAN DIEGO — The San Diego Zoo announced Friday that it will create a new eight-acre Africa exhibit, for which businessman and philanthropist Ernest Rady kicked off fundraising with a $10 million challenge gift.
The Conrad Prebys Africa Rocks exhibit, slated to open in four years, will replace Dog and Cat Canyon, one of the oldest zones of the zoo, built in the 1940s.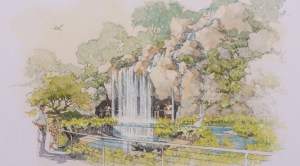 Prebys provided the naming donation for the Africa Rocks exhibit and has donated to the zoo in the past, according to a zoo official. The Conrad Prebys Polar Bear Plunge and the Conrad Prebys Australian Outback are also named after him.
Rady pledged a $10 million challenge grant, but the zoo must come up with $20 million in matching funds in a little over two years to receive it.
"Ernest Rady's challenge gift is remarkable," San Diego Zoo CEO and President Doug Meyers said. "The San Diego Zoo was created by Dr. Harry Wegeforth almost 100 years ago for the children of San Diego. Mr. Rady follows in Dr. Wegeforth's footsteps by making possible a new, unique experience for children of all ages that provides them with opportunities to explore more than five different African habitats."
Once completed, the Africa Rocks exhibit will include a 65-foot-tall man- made waterfall called Rady Falls and will include a Madagascar Habitat that will feature seven species of lemurs, according to the zoo. More than 50 species of African animals will be on display, some which have never been seen in San Diego before.
Patas, velvet monkeys and African birds, including the carmine bee-eater and southern ground hornbill, will be housed in an Africa forest habitat, and some of the zoo's most popular African animal and plant species will get new homes, officials said.
The exhibit's younger visitors will have the opportunity to meet animal caretakers and view training. The exhibit will also highlight conservation efforts, according to zoo officials.