This is an archived article and the information in the article may be outdated. Please look at the time stamp on the story to see when it was last updated.
SAN DIEGO – Despite the muggy Southern California weather, it was a snow day for pandas at the San Diego Zoo Thursday.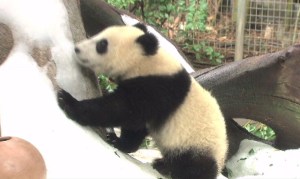 Yun Zi, a 4-year-old panda, seemed to have the most fun with the white stuff. Zoo officials said he rolled around in the makeshift snow, climbed trees, rubbed snow all over himself and even made a snowball. At one point, the panda vocalized a bleat — a sign of curiosity or a way to express excitement.
About 100 blocks of ice were shredded into 15 tons of snow for the pandas to play in. In the wild, pandas are found high in the snowy mountains of western China.
"Giant panda Yun Zi was definitely acting like a cub again," said Jennifer Becerra, San Diego Zoo senior keeper. "He was running around, digging in the snow looking for food, doing multiple somersaults and just having fun."
The year-old panda cub Xiao Liwu smelled the snow and slid around for a little while, but then decided to nap in his favorite tree, zoo officials said. When he awoke, he frolicked in the white stuff with his mother, Bai Yun.
The giant pandas at the zoo are on loan from the Chinese government, which has the option of repatriating them after they are 3 years old. No request has been made regarding Yun Zi.
The zoo is one of four in the United States participating in the loan program with China. For a hefty fee paid to the Chinese government, the zoos get to study the critically endangered species and help with breeding. At the same time, the pandas make for highly popular attractions.
Only about 1,600 pandas are believed to be left in the wild in China, in part because of deforestation and the expansion of farming. The bamboo-eating panda has lost much of its forest habitat in the mountainous areas of southwest China to roads and railroads, according to the nonprofit World Wildlife Fund.