This is an archived article and the information in the article may be outdated. Please look at the time stamp on the story to see when it was last updated.
SAN DIEGO — The first California condor chick to be born at the San Diego Zoo Safari Park this year is about two weeks old, the zoo announced Monday.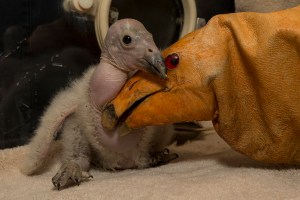 Wesa, which means "celebratory drink" in the Chumash language, is growing by leaps and bounds, according to the chick's handlers, who said the bird is gulping down as many as 15 mice a day. Wesa also sleeps a lot, but plays with a feather and other enrichment toys when awake.
The sex of the bird is not known yet. Safari Park animal handlers will conduct a blood test in a few weeks to make a determination. Sometime later, the condor could be released to the wild, either here in California or Arizona, according to the zoo.
The California Condor Recovery Program at the Safari Park has hatched 173 chicks and released more than 80 birds in the wild since starting up in the 1980s, when there were an estimated 22 condors left in the world. The number is now over 400, with about half in the wild.