This is an archived article and the information in the article may be outdated. Please look at the time stamp on the story to see when it was last updated.
SAN DIEGO – New political advertisements feature the "undead" campaigning against San Diego mayoral candidate Nathan Fletcher.
In one of the ads, zombies are shown walking through a park changing their path each time the narrator accuses Fletcher of switching sides on an issue.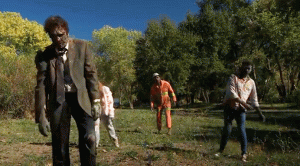 The second commercial has zombies talking to each other about the candidate.
"The problem with Nathan Fletcher is he just stumbles from one position to the next," one of the characters said.
The ad is paid for by "Zombies for Responsible Government Opposing Nathan Fletcher for Mayor." It is just one of several attacks made against Fletcher in the past week.
The David Alvarez campaign is accusing Fletcher of breaking a pledge he made to run a clean campaign. They said a recently released flier attacks Alvarez and candidate Kevin Faulconer. The flier has a disclaimer that reads, "This message was not authorized by the candidate or a committee controlled by the candidate."
On Monday, Faulconer also came out swinging, accusing Fletcher of a lack of openness in his campaign.
"To be mayor of the city of San Diego you need to be open and transparent," said Faulconer. "What we've seen now, particularly from the Fletcher campaign, is a lack of openness and transparency. It's not just about refusal on the college transcripts, but it's about not releasing the calendar and most importantly not releasing a full list of donors to the campaign."
Fletcher's campaign denied Fox 5's request for an interview, but his spokeswoman Rachel Laing released this statement:
"Nathan has released hundreds of pages of military records, years of tax returns, copies of his pay stubs and information about his thousands of donors. This isn't about transparency. This is a desperate political stunt to gain attention and distract from the fact that, in recent years, our roads have gotten worse, our communities are less safe, and there are fewer economic opportunities for the middle class."