This is an archived article and the information in the article may be outdated. Please look at the time stamp on the story to see when it was last updated.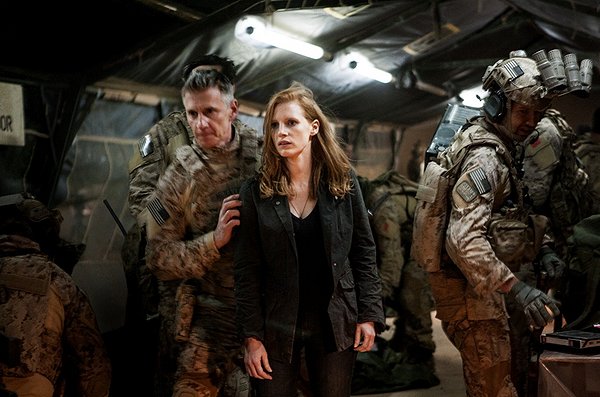 Film critic Roger Ebert wrote a book about the 100 greatest movies ever made. He has JFK on that list. I have a problem with the fact that Oliver Stone made things up in JFK (including a completely fictional character to help tie things all neatly together). Ebert defends that, saying "It's a movie! You're allowed to do that."
I not only disagree with that statement, but Ebert himself has complained about other movies that use real people (a film on Medgar Evers, I believe).
I've had a problem with Ron Howard making things up about the real life characters he's made films about, and I currently have a problem with what Kathryn Bigelow did with this.
The Oscar winning director-producer teamed up with writer-producer Mark Boal again (The Hurt Locker), and this movie is going to be nominated for an Oscar, too. It shouldn't be.
Here's the story. 9/11 happens. The movie cleverly let's us hear emergency calls on a black screen in the beginning.
We quickly get a lengthy scene that shows a terrorist prisoner being strung up and waterboarded. He eventually has his pants pulled down and is humiliated in front of a female agent, and he's stuffed into a tiny box. This scene is problematic for a number of reasons. It's prohibited by international law to torture. The CIA has come out and said nobody was tortured for the information on where Osama bin Laden was. And on top of all that, Bigelow is showing us a torture scene without telling us why. Was this guy involved in torturing Americans? Did he bomb a place? Well, she implies he just delivered money to al-Qaeda.
Does this mean we now have to feel disgusted by the treatment of this prison? And guess what? If it's his information that lead to the info that eventually got bin Laden, I'm all for the torture.
That being said, it's a bit lame that Bigelow would try to be so preachy on such matters. I would've preferred her and Boal sat down and wrote a script with more meat in it. Instead, we get shaky-cam and bad lighting.
The movie is well over two hours, and the first hour had me rather bored. It's not until Jessica Chastain really turns things up a notch and gets into her role of tracking down Bin Laden that I got on board. She's easily the best actress, that isn't a household name, working today. And she'll be getting a well-deserved Oscar nod for this. Now that being said – the filmmakers don't give us any information about her. Therefore, it's hard for me to get that emotionally invested in her. Sure, I'm rooting for her. I want Bin Laden located, but come on.
There were some predictable scenes. One of those involves a meeting with an informant that doesn't go as planned.
There were some scenes that had you on the edge of your seat. One involves agents trying to locate a car being used by the courier working with Bin Laden. We know he's going to be found eventually…but just like Argo, it doesn't mean we're not still on the edge of our seats.
I'm so baffled by all the praise this movie is getting. There's a scene at the end where Chastain has a tear, when asked where she is going next. Do I interpret this to mean she feels guilty about some of the things that went down? Or is this a similar ending to The Hurt Locker – where Jeremy Renner finally gets out, and wants to go back again. She could be sad about her job being finished and feeling a lack of purpose. It just didn't pack an emotional punch like it should've. That's a shame, because the way Bin Laden was killed, and the way the soldiers acted while doing it and afterwards, felt very authentic. It wasn't over-the-top Hollywood garbage (like in Jarhead when they happily shoot their guns into the air for five minutes in celebration).
The cast included Joel Edgerton. I'm a huge fan of him and his brother.
James Gandolfini has a few good scenes, but here's the problem I had with him. I saw him a few months back in Killing Them Softly (he was one of the few good things about that disappointing movie). He was great in the underrated Not Fade Away as a tough but caring father. It's at theatres now, but not for long (catch it before it fades away).
In this movie, his character was too much like the one he played in the parody war film In the Loop about 5 years ago.
On the subject of other movies you think about while watching Zero, my friend leaned in when one high ranking official walks into a room and started screaming. The guy said he wanted names, targets, and "people to kill."
My friend whispered "That was Alec Baldwin from Glengarry Glen Ross."
I was thinking the same thing before he said it.
Most critics loved this Zero Dark Thirty, as did most of the audiences that have seen it. I can only give it 2 stars out of 5.