This is an archived article and the information in the article may be outdated. Please look at the time stamp on the story to see when it was last updated.
MENIFEE, Calif. -- The family of a woman who shot and wounded three people before turning the gun on herself at YouTube headquarters said Wednesday that they are "in absolute shock and can't make sense" of the shooting.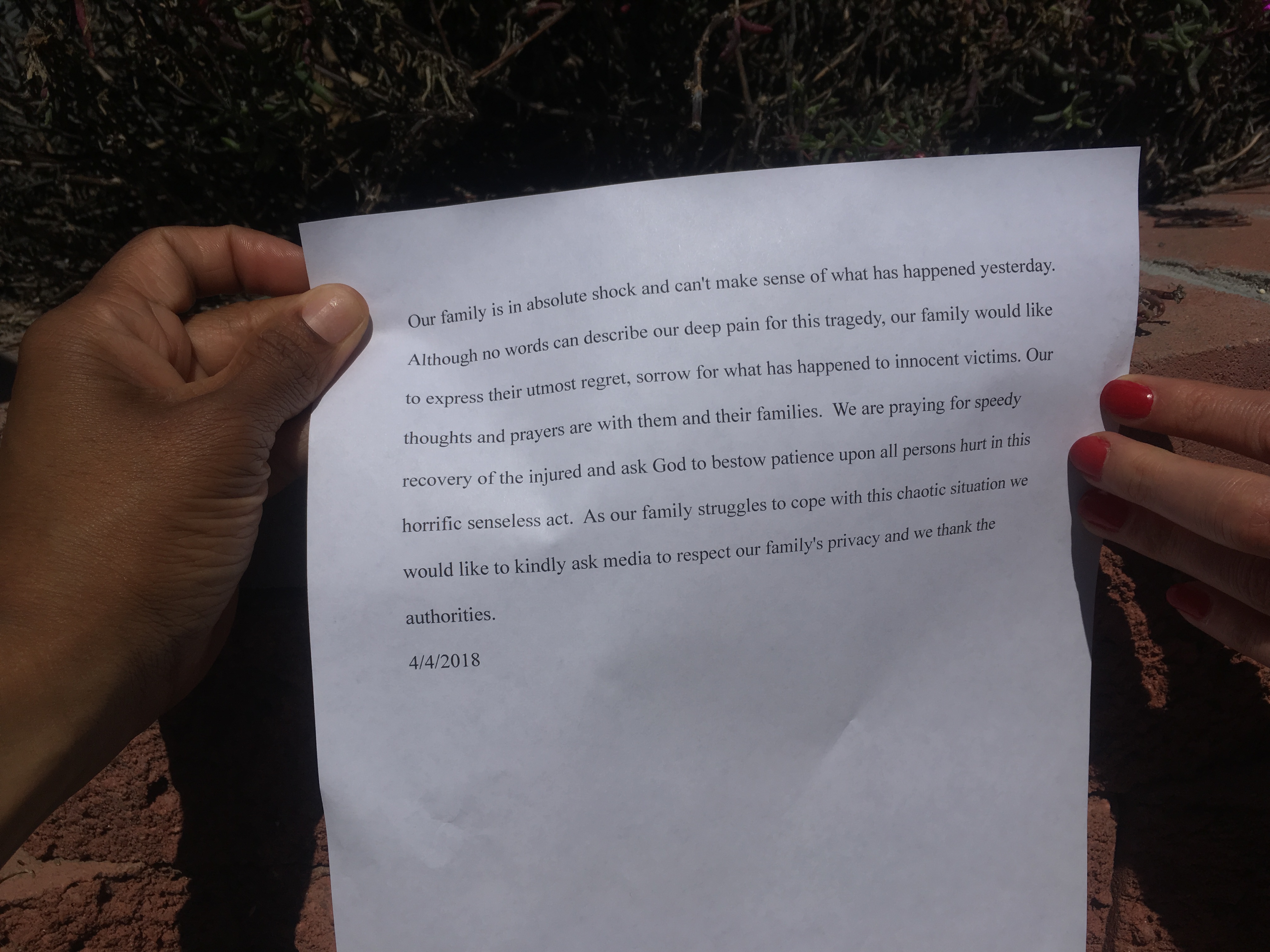 Nasim Najafi Aghdam, 37, who had lived in San Diego County before the attack, was apparently upset with the online video company over policies that she thought targeted her channels.
Aghdam's father, Ismail Aghdam, distributed a written statement to reporters gathered outside the family's Menifee home on Wednesday, expressing shock at the violence.
"Our family is in absolute shock and can't make sense of what has happened yesterday," the statement reads. "Although no words can describe our deep pain for this tragedy, our family would like to express their utmost regret, sorrow for what has happened to innocent victims.
"Our thoughts and prayers are with them and their families. We are praying for speedy recovery of the injured and ask God to bestow patience upon all persons hurt in this horrific senseless act. As our family struggles to cope with this chaotic situation we would like to kindly ask media to respect our family's privacy and we thank the authorities."
As he distributed copies of the statement, Aghdam told reporters he still can't believe what transpired Tuesday, saying his daughter never "hurt one animal, one ant."
The YouTube campus remained closed Wednesday. The San Bruno police chief said Aghdam's car was impounded and being examined, but no notes or manifestos were found that forecast the violence, aside from online rants that did not appear to mention any violent intentions.
Investigators were in 4S Ranch yesterday to search the home where Aghdam had lived with a family member prior to the shooting.