This is an archived article and the information in the article may be outdated. Please look at the time stamp on the story to see when it was last updated.
SAN DIEGO – A repeat DUI offender, whose 3-year-old child was in the back seat of her car when she hit a jogger in Pacific Beach while drunk, was sentenced Wednesday to five years in state prison.
Amanda Mae Brodd, 27, pleaded guilty in April to DUI, child endangerment and hit-and-run and admitted driving on a suspended license and resisting arrest in the accident that seriously injured 23-year-old Brian Dewhirst.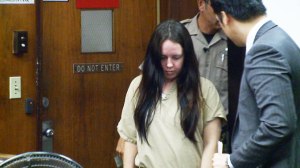 "I do remember feeling the impact of my body tumbling over the car before I was knocked unconscious," Dewhirst told Superior Court Judge Daniel Link.
Dewhirst said he wound up with a badly cut face, a broken hip, leg, foot and nose.
The victim said his recovery has been so difficult he wished he would have died in the accident.
"All I did was go on a run," Dewhirst said. "It's not fair. I felt like I kind of got screwed."
"I couldn't go to the bathroom, either one, couldn't sleep, I couldn't eat, if I did I'd throw up. I felt like I had the worst fever of my life. I've never been so miserable," Dewhirst said. "I remember thinking on multiple occasions that I wish I had just died in the accident, because I couldn't endure the misery anymore."
Dewhirst's father told the judge that the amount of time Brodd would serve was not enough for the pain his son endured.
"The five-year deal with Amanda, only having to serve a portion of it…doesn't seem like very much in comparison to what BJ's had to go through," said Dewhirst Sr.
Deputy District Attorney Matthew Dix said Brodd hit a car in the parking lot near the roller coaster in Mission Beach the evening of Feb. 15, then took off instead of remaining at the scene.
Brodd drove three miles and turned onto Crown Point Drive, where she drove onto a sidewalk and hit Dewhirst.
Dewhirst, an emergency medical technician and ambulance driver, was thrown onto the hood of Brodd's car.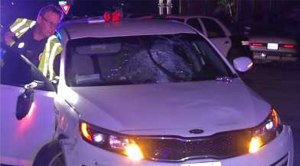 Brodd — who was on probation for a 2011 misdemeanor DUI conviction — refused a required breathalyzer test and was arrested, according to the prosecutor. Her 3-year-old daughter was found uninjured in the back seat, but the child's car seat was not installed properly, Deputy District Attorney Matthew Dix said.
The defendant had a blood-alcohol content of .27 percent, more than three times the legal limit for driving, according to Dix.
The judge denied a defense request that Brodd serve her sentence in a fire camp program.