This is an archived article and the information in the article may be outdated. Please look at the time stamp on the story to see when it was last updated.
SAN DIEGO – A 12-year-old boy, who has a liver disease that requires a transplant, has decided not to sit and wait around.
Nick Wallace has biliary atresia, which can lead to liver damage and is deadly if not treated.  He doesn't let that slow him down.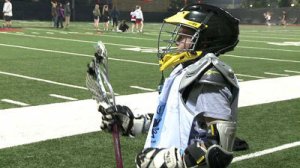 He sings, plays his guitar, plays basketball with his friends in front of his house in Del Mar, and thinks about lacrosse – all the time.
"Eventually he was sleeping with a lacrosse stick, wearing a lacrosse helmet," said Nick's mother Deborah Atking. "But not playing."
For the longest time all Nick could do was practice lacrosse in the backyard. He said he would practice by himself for hours. Then in the fall of 2010 his parents finally said he could join a team.
"It was one of the happiest days of my life," Nick said. "I was screaming and jumping around the house.  The day they told me I could play lacrosse was the happiest day ever."
He joined the RC Starz Youth lacrosse team as a defenseman. Nick's parents had custom padding made to protect his torso.
"The first couple times (watching Nick play) was horrible," Atkin said. "You hear the sticks hit each other.  I don't know how you describe that sound, 'Crunch.'
"I've seen Nick get decked, people end up on him and we have an agreement that Nick has to put his thumb up right away if he's okay," she said.
"This is something that he just lives for," said Chris Wallace, Nick's father. "He thinks about it all the time.  He gets excited when it's time to practice, when it's time to play. It's been a huge thing really in his life.  In terms of his enjoyment of life, it's just something that has lit him up."
He played in a tournament last November attended by San Diego State University men's club coach Matt Holman. Then, Holman invited Nick to become the Aztecs' honorary captain for the 2012 season.
"He loves the game," Holman said. "And for me, I'm like, 'Hey, let's give him more publicity. Let's get this kid a liver."
Nick occasionally goes to practices and even goes through non-contact drills with the Aztecs.
"His attitude is really what sets him apart from most kids I've seen," said Aztecs' co-captain Troy Dillingham. "Every day he just shows up, you mention the word 'lacrosse' and his face just beams."
Before the Aztecs first game last Saturday, Nick joined the captains and made the call on the coin flip.
"I just felt like I was so loved," Nick said. "I just felt I had so many sweet people surrounding me because I knew that all the players were very nice and I just knew that was a very great thing.  I loved it."
Nick nearly missed his first game as honorary captain because he received a call that a donor liver had been found, but at the last moment, he found out that the liver wouldn't work.
"One of the worst parts of having a liver disease is you get dizzy all the time," he said.
Nick's parents said he has moved to the top of the transplant list even though his health has not deteriorated as much as expected since he started playing lacrosse. They said Nick's active lifestyle has allowed him to keep his liver longer than most kids.
To be a match, the donor must have the same blood type as Nick: O-positive.  United Network For Organ Sharing offers the assistance for finding the match.
Nick plans to lead the 2012 California Liver Life Walk on Saturday May 12 at the San Diego Zoo.