This is an archived article and the information in the article may be outdated. Please look at the time stamp on the story to see when it was last updated.
SAN DIEGO – Two local boys are on their way to compete in the 2013 World Dwarf Games in Lansing, Mich., where they will play sports against kids their own size for the first time.
Sports are a little bit harder for 7-year-old Justin Moskovics and Sebastian Desposato, 4, who were both born with Achondroplasia, a form of dwarfism.
They lead normal lives and love to play sports, but because of their size they have a hard time keeping up with other kids. All of that will change in a couple days when they go to the World Drawf Games.
Nearly 400 athletes from all over the world will compete in Olympic style games. Justin and Sebastian will be swimming and playing soccer. Sebastian will also be running.
In addition to competing against other children with dwarfism, they will be coached by paralympians.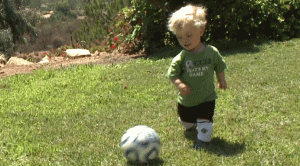 Their parents hope the experience will build their self-esteem.
"These children can say 'well if I can get to here, then I can be just like them – be in the Olympics, an Olympian and possibly a gold medalist," said Ellen Erenea.  She had Justin start swimming when he was 9-months-old.
"I hope that he understands the bigger picture," Erenea said. "That the reason why he should stay fit and stay with this sport is because there are people just like him that are doing the same sport."
Sebastian understands fun and competition and is excited about the trip, but his parents say he doesn't fully understand the significance of this trip.
"We learned before he was born he was going to have some sort dwarfism probably," Sebastian's father Scott Desposato said. "You're terrified of what it means and what's this going to be. Then, he comes out and he's this brave strong boy with an incredible smile."
"Seeing him out there and playing sports and having a good time. You realize it's OK. It's all going to be alright," Desposato added.