This is an archived article and the information in the article may be outdated. Please look at the time stamp on the story to see when it was last updated.
YOSEMITE NATIONAL PARK — Sisters Lauren Scott and Patrice Fambrini stood near the check-in desk of Curry Village, a quaint collection of tents and cabins in Yosemite National Park, and considered the merits of their lodgings.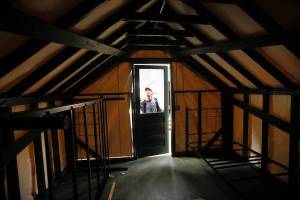 Last year, three people died and six more became ill after staying at the campground — infected by a rare, mysterious and usually dangerous rodent-borne illness known as hantavirus.
"The way these were constructed created a habitat for the mice to be there," Fambrini said nervously.
Scott, a longtime fan of the camping area, was unfazed: "You're in the woods!"
It may not have been apparent to the sisters, but Curry Village has become ground zero of a multimillion-dollar effort to make Yosemite safe — or as safe as any rural place can be — from an illness carried by creatures who can burrow into a hole the width of a pencil. Changes to the park's far-flung facilities will get tested this summer, as an expected 1.8 million visitors fan out across its 1,200 square miles and share turf with all sorts of wild beasts.
The park visitors who contracted hantavirus had inhaled large quantities of dust containing urine, saliva and fecal matter from infected deer mice. To try to keep that from happening again, workers have been plugging crannies in buildings, hanging screens on staff and guest lodgings, and reinforcing "bear boxes," all to keep the little critters from nesting anywhere near people.
It's an undertaking that's considerably more difficult than guarding against ferocious predators, said Mark Gallagher, environmental manager at Yosemite for Delaware North Cos., which operates Curry Village and other lodging facilities in the park.