This is an archived article and the information in the article may be outdated. Please look at the time stamp on the story to see when it was last updated.
MIAMI — Rapper XXXTentacion was killed in what appeared to be a robbery Monday afternoon in South Florida, authorities confirmed.
The shooting happened outside a motorsports store as the rapper was leaving. Witnesses say two men approached his matte black BMW i8, took a Louis Vuitton bag, and at least one of the suspects fired shots, TMZ reports.
Witnesses say the rapper comatose after the shooting. Amateur videos from the scene posted to social media showed the artist slumped in his luxury car.
Broward County Sheriff's office tweeted that dispatchers received a call of a shooting at 3:57 p.m. and that a male was transported to the hospital. They later confirmed that the 20-year-old rapper, born Jahseh Onfroy was pronounced dead.
#BreakingNews #BSO is currently working an incident regarding a shooting at 3671 N. Dixie Hwy., Deerfield Beach. PIO headed to scene. Dispatchers received a call of a shooting at 3:57 p.m. An adult male victim was transported to an area hospital.

— Broward Sheriff (@browardsheriff) June 18, 2018
#BreakingNews The adult male that was taken to the hospital has been pronounced dead.

— Broward Sheriff (@browardsheriff) June 18, 2018
The adult male victim has been confirmed as 20 year old Jahseh Onfroy aka rapper #XXXTentacion.

— Broward Sheriff (@browardsheriff) June 18, 2018
XXXTentacion was notorious for the SoundCloud rap scene. His album '?' debuted number 1 on the Billboard charts in March.
Several artists tweeted their condolences on social media.
My heart dropped when I heard about @xxxtentacion, I feel like we only got to see a glimpse of his artistry. I didn't know him personally but I respect how passionate he was about his music and message. Nobody deserves this kind of ending. gone too soon, damn! RIP

— Sean Don (@BigSean) June 19, 2018
https://twitter.com/kanyewest/status/1008839504902307840
Thanks for inspiring me. pic.twitter.com/BmX3ya6Hmx

— Thomas Wesley (@diplo) June 18, 2018
Really sad Rip xxx.. so sad to lose good artist. 🙏🏾🙏🏾🙏🏾🙏🏾

— T-Raww (@Tyga) June 18, 2018
The rapper arguably known as much for his music as he was for controversy. He was feuding with fellow hip-hop artists Drake and Offset.
He was jailed ahead of his trial for domestic abuse allegations.
In a recent interview with Miami New Times at his home in Parkland, Florida, the rapper denied the allegations, which were made by a girlfriend who was pregnant at the time. Onfroy was recently released from custody on house arrest while he awaited charges of aggravated battery on a pregnant victim, false imprisonment, strangulation, and witness tampering.
The artist appeared to be turning things around.
Moments before the shooting, Onfroy shared on his Instagram story that he was in the process of planning a charity event.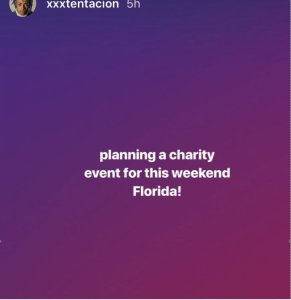 Onfroy also made headlines after he was attacked on stage and knocked unconscious while performing in San Diego last June. A man rushed up to him and punched him as he performed a song barefoot on stage. The rapper was carried offstage as security guards struggled to subdue about 10 other combative people.
This slideshow requires JavaScript.
At some point during the melee on June 7, 2017, a 19-year-old audience member suffered a stab wound to the back. He was taken to a hospital for treatment of a punctured lung, SDPD Officer Billy Hernandez said at the time. The University Avenue venue was emptied following the brawl and police remained on hand throughout the night to make sure the crowd dispersed.
In the online hip hop community, rumors swirled that the North Park attack was carried out by someone close to Lemon Grove rapper Rob $tone, whose real name is Jaylen Robinson. After news of Onfroy's death broke Monday, Robinson posted a video from late last year that appeared to show the young musicians speaking on the phone and clearing up any disagreements.
"I would never wish death upon another human being," Robinson wrote on his Instagram page. "We had our differences and battles in the field but at the end of it all, X reached out to me like a man and we talked it out, like men. I wasn't ever (going to post this phone call) … but I feel like both of our supporters need to hear this for closure. Please let him rest peacefully. I pray all young artists, including myself, will use this unfortunate situation as motivation to stop the violence and focus on bettering the world we live in. RIP xxxtentacion."
South Florida sheriff's officials said no suspects had been arrested in connection with Onfroy's death as of Tuesday morning. Anyone with information is urged to contact Broward County Sheriff's homicide detectives or Broward Crime Stoppers.
Anyone with information is urged to contact #BSO homicide detectives Walt Foster or John Curcio at (954) 321-4210 or @crimestoppers2, anonymously, at (954) 493-TIPS #XXTENTACION. pic.twitter.com/J97xZ9cHHz

— Broward Sheriff (@browardsheriff) June 18, 2018