This is an archived article and the information in the article may be outdated. Please look at the time stamp on the story to see when it was last updated.
SAN DIEGO — A Madison High School wrestling coach fatally shot a one-time assistant out of revenge and should be convicted of murder, a prosecutor said Wednesday, but a defense attorney said his client fired in self-defense when he was threatened and saw the victim with a knife.
Jeret Thomas Needham, 43, is charged in the death last Sept. 24 of Robert Colegrove.
In his opening statement, Deputy District Attorney Michael MacNeil told jurors that about four to six months before the shooting, Needham had grabbed Colegrove's girlfriend's crotch as she bent over to make the bed in her boyfriend's room, a converted garage behind a home in Bay Park.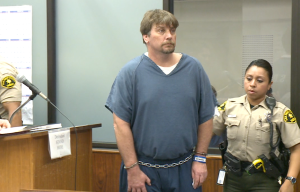 The day of the murder, Needham went to the home and got into a fight with Colegrove when the 45-year-old victim refused to get out of a chair, MacNeil said.
As Needham left, he walked by a woman in the home and repeatedly said, "Shouldn't have done that," according to the prosecutor. About an hour later, Needham came back and shot Colegrove once in the heart through a back fence, the prosecutor alleged.
Defense attorney Kerry Armstrong told the jury that Needham will testify that he shot Colegrove, but only after hearing the victim say "I'm going to kill you" and looking through the fence to see Colegrove holding a knife.
Armstrong said Needham met Colegrove through his girlfriend, and about eight months before the shooting, the defendant asked the victim if he wanted to help him coach wrestling at Madison High.
Colegrove worked as an assistant coach for only a week because he got hurt, Armstrong said.
Regarding the touching incident involving Colegrove's girlfriend, Armstrong said his client swung his arm and his hand accidentally touched the woman's buttocks and she accepted his apology.
The day of the shooting, Needham went to Colegrove's home to offer him another shot at coaching, but he was hit in the head with a club as soon as he entered the residence, Armstrong said. The attorney said Needham went home, but decided to go back to the victim's home to retrieve his glasses and his cellphone.
Armstrong said Needham doesn't remember putting his gun in his pocket, but he must have done so because he shot Colegrove through the fence when he heard the threats and saw the knife.
A knife was found under Colegrove's body and the victim had methamphetamine in his system, Armstrong said.
The attorney said Needham was not a fighter nor a violent man.
"He did what he thought he had to do," Armstrong told the jury.
Needham faces 50 years to life in prison if convicted.
—– Story by Kelly Wheeler, City News Service